Sunday Wrap-Up: Generals roll to 4th straight win
February 8, 2021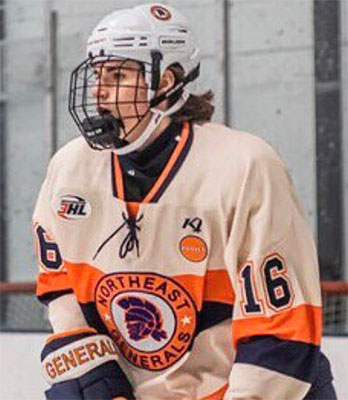 Jr. Hat Tricks 2 @ Generals 8 – Ben Pizzimenti and Jacob Kosinski each scored twice as the Generals rolled to their 4th straight win thanks to an 8-2 win on Sunday. It was all Generals from the starts as they opened up a 3-0 lead in the 1st period with goals from Pizzimenti, James Clarke, and Payton Felix. The lead swelled to 6-0 in the 2nd period as Pizzimenti scored again and Jake Hosszu and Jason Gratz also scored. The Jr. Hat Tricks got two goals later in the game from Nicholas Rogers and Cole Madzey, but two goals from Kosinski secured the 8-2 win. Generals goalie Espen Reager made 25 saves in the win, while Nathan Hadley made 52 saves in the loss.
Peoria 5 @ Wausau 1 – The Mustangs got goals from five different players as they took the rubber match of their three-game series in Wausau by a 5-1 score. Heath Drye scored to give Peoria an early 1-0 lead. That was answered by Wausau's lone goal of the day, which came on the power play from Isaac Wickersheim. The Mustangs regained the lead for good later in the 1st period as Trace Tompkins scored his first goal of the season. Connor Bennett and Ibriham Arifi would add 2nd period goals and Ethan Chesney scored in the 3rd period to complete the scoring. Mustangs goalie Andrew Doran made 18 saves in the win, while Caleb Sauer made 34 saves in the loss.
El Paso 2 @ Atlanta 3 – Capitals goalie Matthew Genter made 42 saves to lead his team to a 3-2 win on Sunday, which salvaged a win for his team in the three-game series. The Capitals got off to a good start with 1st periodgoals from Dylan Slater and Gunner Moore to take a 2-0 lead. El Paso cut into the lead with a 2nd period goal from Noah Decker to make it 2-1. In the 3rd period, a power play goal from Andrew Raburn put the Capitals back up by two at 3-1. A late goal from Cole Schneider made it a 3-2 final. Rhinos goalie Rustam Kulizade made 36 saves in the loss.
TX RoadRunners 3 @ Louisiana 2 (OT) – The RoadRunners salvaged a win in their three-game set against the Drillers thanks to a 3-2 win on Sunday. Derek Boutin was the star of the show for the RoadRunners as he recorded a hat-trick, scoring a goal in each period to lead the RoadRunners to the win. Louisiana got goals from Mark Phillips and Timothy Miller. RoadRunners goalie Aidan Rudolf made 28 saves in the win, while Drillers goalie Chris Branch made 21 saves in the loss.