NA3HL announces Stars of the Week presented by Bauer Hockey
February 9, 2021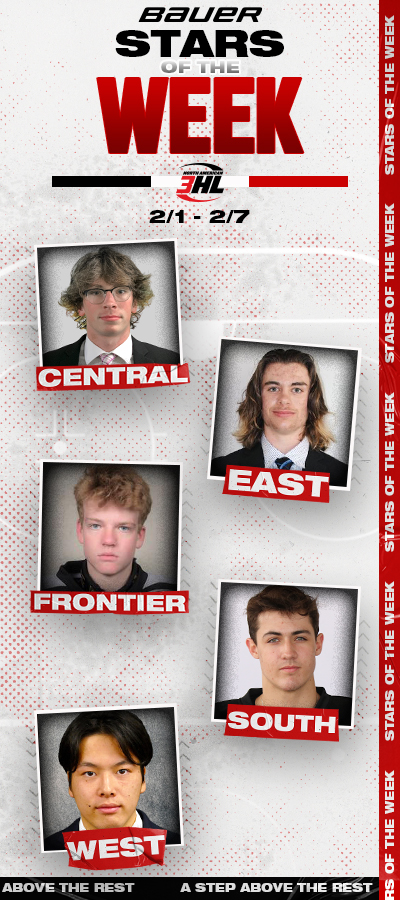 The North American 3 Hockey League (NA3HL) today announced the Divisional Stars of the Week presented by Bauer Hockey for the week ending February 7, 2021. The divisional stars of the week are awards given each week of the regular season to the top-performing players in each of the five divisions of the NA3HL as nominated by their head coaches.
Central Division Star of the Week: Max Erstad, F, Milwaukee Power
Following a quiet stretch of games, Erstad found his game in a back-to-back set against Oregon, notching six points to help his team earn a split. Erstad scored the first goal and set up the second in Friday's loss, then found twine again and added three more helpers as the Power overwhelmed the Tradesmen in the rematch. Erstad has posted 2g-5a—7pts on his current three-game point streak, and boasts 9g-11a—20pts in 24 games on the year.
2nd Star: Ethan Chesney, F, Peoria Mustangs
Honorable Mention (alphabetical): Heath Drye, F, Peoria Mustangs — Nate Stone, F, Milwaukee Power
East Division Star of the Week: Jacob Kosinski, F, Northeast Generals
Like Erstad, Kosinski came off a relatively tame month in January to tear it up in his first two games in February, bagging five points in a pair of wins over Springfield. The 6-foot-0, 170-pound forward scored once and set up another on in a tight win on Friday, then upped the ante with two goals and another assist in Sunday's blowout. With points in three straight (4g-2a—6pts), Kosinski has now recorded 9g-8a—17pts in 21 outings this year.
2nd Star: Matthew Anastasio, F, New England Sharks
Honorable Mention (alphabetical): George Fomin, F, New England Sharks — Nikita Kovalev, F, Springfield Jr. Hat Tricks — Espen Reager, G, Northeast Generals
Frontier Division Star of the Week: Tommy Near, G, Butte Cobras
Near handled a remarkable workload last week, facing 121 shots in two games and, stunningly, coming out with two wins and only three total goals allowed. Opening up a back-to-back against Yellowstone, Near stopped 62 of 63 shots in a 6-1 win on Friday — his third time facing 60+ shots on the year, but first time recording 60+ saves. The Quake came back strong in Saturday's rematch, but Near was close to perfect once again, stopping 56 of 58 shots to pick up a 3-2 win and mark his fourth straight performance with at least 55 saves. In just 15 games this year, Near has stopped 628 of 683 shots, good for a .919 save percentage, and has picked up each of his four wins on the season in just his last six appearances.
2nd Star: Derek Humphreys, F, Sheridan Hawks
Honorable Mention (alphabetical): Robin Bagley, F, Butte Cobras — Isaac Ellingson, F, Helena Bighorns — Gavyn Galloway, F, Helena Bighorns — Trevor Prince, F, Missoula Jr. Bruins — Sam Skillestad, D, Missoula Jr. Bruins — Nick Wieben, F, Sheridan Hawks
South Division Star of the Week: Noah Decker, F, El Paso Rhinos
Decker was as consistent as they come during a three-game road trip against Atlanta last week, scoring in each tilt and chipping in four assists as well. After posting a shorthanded tally and three helpers on Friday, Decker made it consecutive multi-point outings with a 1g, 1a showing on Saturday, then capped off a solid trip with another marker on Sunday. The native of Thornton, CO is currently riding an eight-game point streak, during which he has posted 6g-10a—16pts — a majority of his season-long mark of 6g-13a—19pts.
2nd Star: Noah Henslee, F, Oklahoma City Blazers
Honorable Mention (alphabetical): Derek Boutin, F, Texas RoadRunners — Noah Roitman, D, Oklahoma City Blazers — Aidan Rudolf, G, Texas RoadRunners
West Division Star of the Week: Sota Isogai, F, North Iowa Bulls
Isogai entered the week on a four-game point streak, then extended that run to six games with consecutive multi-point efforts to help the Bulls to a 2-0-0 weekend. The second-year skater factored in on almost half of North Iowa's seven goals in Friday's win over Granite City, posting the first and last goals of the game while setting up another in between to mark his second three-point game of the year. Isogai followed up on Saturday with a 1g, 1a showing in an 8-1 win over New Ulm. The Japanese sniper has been in fine form this season, recording 13g-6a—19pts in 20 games, ranking first in goals and third in points among North Iowa skaters.
2nd Star: Hanson O'Leary, F, Granite City Lumberjacks
Honorable Mention (alphabetical): Kyle Heffron, F, North Iowa Bulls — Ethan Light, F, Willmar Warhawks — Will Pinney, G, Willmar Warhawks — Carson Simon, F, Granite City Lumberjacks — James Spaargaren, F, New Ulm Steel