Hawks raise $6,800 for Welch Cancer Center, Brings family
February 10, 2021
by Emily Simanskis, Sheridan Press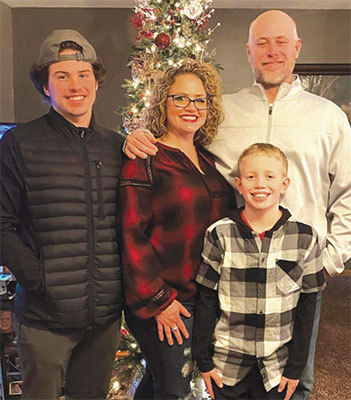 The Brings family have hockey running through their blood. Born and raised Minnesotan, Tony Brings was raised by parents who met in high school when his mother served as a cheerleader at high school hockey games and whose father played and coached high school hockey. Familiar since birth with the familial bond of hockey teams, Brings joined the North American 3 Hockey League Sheridan Hawks mid-December, and the Hawks quickly welcomed the forward into their hockey family.
Off the ice, the NA3HL Hawks' family — its fans, billet families, other volunteers and the greater Sheridan community — welcomed Brings and his family to Sheridan in a big way.
As part of the Hawks' cancer awareness night Jan. 30, the organization had planned to auction its specially-designed lavender jerseys to benefit Sheridan Memorial Hospital's Welch Cancer Center. Then Jennelle Brings, Tony's mother, learned she had breast cancer Jan. 13.
Sheridan sent flowers to the family, and two weeks later, the Hawks pledged proceeds from Tony Brings' jersey would benefit his family, and an anonymous donor pledged a matching donation up to $3,000. His mother cried when she saw the announcement of the pledge.
"It was very surprising, especially where our country is now with so much hate, that there was so much care, love and generosity from people who have no idea of my name and didn't know much about Tony and our history and our family," Jennelle Brings said. "It made me feel good that there are still good people in this world."
When the weeklong auction closed Jan. 31, a Hawks fan secured Brings' jersey for $1,000, making it so $2,000 went to support the Brings family and his mother's fight against breast cancer. Additionally, the organization continues to accept donations to the Brings family via check sent to the Whitney Rink in the M&M's Center, and Sheridan raised $6,800 for the Welch Cancer Center.
"I've never had a community like that where we all bond together," Tony Brings said. "Hockey is what brings us all together."
The Hawks' support for those fighting cancer in the community began during Sheridan's inaugural season when it held a live auction for its specially-designed pink breast cancer awareness jerseys in October 2019. The "Pink the Rink" event raised $4,275 last season, making this year's total a 59% increase in funds raised for the Welch Cancer Center.
Read the rest of the story here