February 12, 2021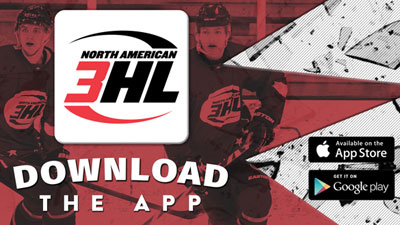 The NA3HL continues the 2020-21 regular season as the march to the Fraser Cup Playoffs continues with 24 games this weekend.
It was another great week for advancement for NA3HL players as two more players signed NAHL tenders, in addition to the almost 20 players who have made NCAA commitments to date.
This weekend offers plenty of intriguing match-ups, none of them bigger than in the Central Division, where the top two teams clash as the Rochester Grizzlies travel to Peoria to take on the Mustangs. Rochester leads the Mustangs by three points for the division lead. In the East, the Jr. Hat Tricks and Sharks each have a three-game weekend. In the Frontier, the Butte Cobras look to stay hot with a couple of home games. In the South, there is a battle of potential playoff teams as Oklahoma City faces off against Atlanta. Finally in the West, the red hot North Iowa Bulls and Willmar WarHawks are both in action, which includes a game against one another on Sunday.
The NA3HL is in its 11th season in 2020-21 and serves as one of the top training grounds in the country by providing the best coaching, exposure and developmental vehicles available for student-athletes in Tier III junior hockey. It is one of only two USA Hockey-sanctioned Tier III junior leagues.
No other league has had more movement and advanced more players onto play in the NAHL than the NA3HL. Earlier this summer, not only did 27 NA3HL players sign a tender to play in the NAHL for the upcoming 2020-21 season, but 28 more players were selected in the 2020 NAHL Entry Draft on July 21st.
The NA3HL also continues to make its mark and is one of the leaders in junior hockey with the advancement of players onto the NCAA. So far in 2020, the NA3HL has over 120+ college commitments, with almost 70% of those being NCAA commitments.
Follow the games on the NA3HL App:
Download the iOS App Store version here
Download the Google Play version here
All games broadcast live on HockeyTV.
FRI, FEBRUARY 12
El Paso at Louisiana - 4:05 PM CST
Oklahoma City at Atlanta - 7:30 PM EST
Springfield at New England - 7:30 PM EST
Milwaukee at St. Louis - 7:00 PM CST
North Iowa at Alexandria - 7:10 PM CST
Granite City at New Ulm - 7:10 PM CST
Oregon at Wausau - 7:10 PM CST
Rochester at Peoria - 7:15 PM CST
Yellowstone at Helena - 7:05 PM MST
Missoula at Butte - 7:30 PM MST
SAT, FEBRUARY 13
Springfield at New England - 3:30 PM EST
El Paso at Louisiana - 4:05 PM CST
Oklahoma City at Atlanta - 7:30 PM EST
Rochester at Peoria - 6:45 PM CST
North Iowa at Alexandria - 7:10 PM CST
Milwaukee at St. Louis - 7:10 PM CST
Granite City at Willmar - 7:10 PM CST
Great Falls at Butte - 7:05 PM MST
Yellowstone at Helena - 7:05 PM MST
SUN, FEBRUARY 14
Milwaukee at St. Louis - 1:00 PM CST
Springfield at Northeast - 2:30 PM EST
El Paso at Louisiana - 4:05 PM CST
New England at Bay State - 7:10 PM EST
Willmar at North Iowa - 7:00 PM CST