February 26, 2021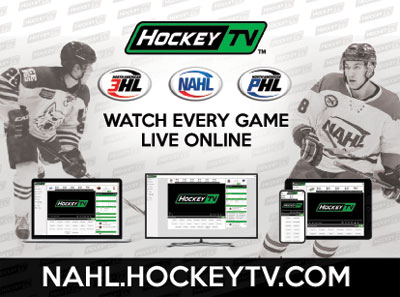 It is one of the busiest weekends of the 2020-21 season in the NA3HL as February comes to a close with 33 games.
Seven teams have already punched their tickets to the Fraser Cup Playoffs, with several more teams knocking on the door to clinch as soon as this weekend.
It was another great week for advancement for NA3HL players as two more players signed NAHL tenders, in addition to the 20+ players who have made NCAA commitments to date.
This weekend features several big matchups. The Texas Brahmas are in Oklahoma City with both teams looking to keep pace with El Paso and clinch playoff berths with some wins. The top two teams in the West Division do battle as North Iowa hosts Granite City. In the East, the Northeast Generals look to try and move closer to a division title with a pair of games against the Jr. Hat Tricks. In the Frontier, Great Falls, Missoula and Gillette have the inside track to clinching the next playoffs spots.
The NA3HL is in its 11th season in 2020-21 and serves as one of the top training grounds in the country by providing the best coaching, exposure and developmental vehicles available for student-athletes in Tier III junior hockey. It is one of only two USA Hockey-sanctioned Tier III junior leagues.
No other league has had more movement and advanced more players onto play in the NAHL than the NA3HL. Earlier this summer, not only did 27 NA3HL players sign a tender to play in the NAHL for the upcoming 2020-21 season, but 28 more players were selected in the 2020 NAHL Entry Draft on July 21st.
Follow the games on the NA3HL App:
Download the iOS App Store version here
Download the Google Play version here
All games broadcast live on HockeyTV.
FRI, FEBRUARY 26
Wausau at St. Louis - 1:00 PM CST
Mid Cities at Atlanta - 7:30 PM EST
Great Falls at Missoula - 5:30 PM MST
Springfield at New England - 7:30 PM EST
Texas Brahmas at Oklahoma City - 7:05 PM CST
Oregon at Rochester - 7:05 PM CST
Willmar at Alexandria - 7:10 PM CST
Milwaukee at Peoria - 7:15 PM CST
Granite City at North Iowa - 7:30 PM CST
Yellowstone at Gillette - 7:05 PM MST
Sheridan at Bozeman - 7:30 PM MST
Helena at Butte - 7:30 PM MST
SAT, FEBRUARY 27
Wausau at St. Louis - 2:00 PM CST
Springfield at Northeast - 4:00 PM EST
New England at Bay State - 4:20 PM EST
El Paso at Louisiana - 4:05 PM CST
Mid Cities at Atlanta - 7:30 PM EST
Milwaukee at Peoria - 6:45 PM CST
Texas Brahmas at Oklahoma City - 7:05 PM CST
Oregon at Rochester - 7:05 PM CST
New Ulm at Alexandria - 7:10 PM CST
Granite City at North Iowa - 7:30 PM CST
Yellowstone at Gillette - 7:05 PM MST
Sheridan at Bozeman - 7:30 PM MST
Helena at Great Falls - 7:30 PM MST
Butte at Missoula - 7:30 PM MST
SUN, FEBRUARY 28
Springfield at Northeast - 8:45 AM EST
Mid Cities at Atlanta - 12:30 PM EST
Wausau at St. Louis - 1:00 PM CST
North Iowa at New Ulm - 2:00 PM CST
El Paso at Louisiana - 4:05 PM CST
New England at Bay State - 7:10 PM EST
Granite City at Willmar - 7:00 PM CST