North Iowa goalie Babekuhl makes NCAA commitment
March 4, 2021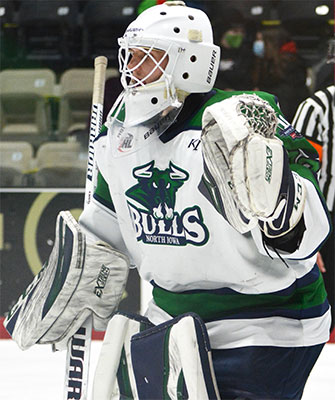 The North Iowa Bulls, proud members of the North American 3 Hockey League (NA3HL), are excited to announce that goaltender Evan Babekuhl has committed to play NCAA Division III hockey for Concordia College beginning in the 2021-22 season. Concordia is a member of the Minnesota Intercollegiate Athletic Conference (MIAC).
Babekuhl becomes the second North Iowa Bulls player to announce a college commitment this season, following defenseman Cal Nauss's commitment to St. Mary's University last week.
More than 150 former Bulls have gone on to play college hockey for NCAA or ACHA programs, with nine making it to NCAA Division I rosters. The college commitment pace leaguewide is quickly heating up as well, with two dozen NA3HL players already having announced their college destinations for 2021-22.
It's hard to overstate just what Babekuhl has meant to the Bulls in his three years with the team. In his first season in 2018-19, he proved a capable counterpart to Dysen Skinner and then some, earning seven wins on the way to a Fraser Cup semifinal berth. Last season, he and Skinner became a formidable tandem before he was thrust into the starring role after Skinner earned a permanent call-up to the North American Hockey League's Minnesota Magicians. All Babekuhl did was lead the team to 16 wins and propel the Bulls to their seventh division title in nine years.
This season, Babekuhl has been the team's "elder statesman" in net, leading the way once again with 12 wins, including a stretch of 10 straight at one point, and his leadership in the locker room has been downright immeasurable.
"Evan has been a solid starter for us in his time as a North Iowa Bull, and works hard each day to develop his game," said North Iowa head coach/general manager Todd Sanden. "We are excited for the opportunity to continue to follow his progress at the collegiate level with Concordia. We thank Evan and his family for their commitment to our team and wish Evan much success as he moves forward."
Concordia College head coach Chris Howe will soon get the benefit of Babekuhl's long list of positive traits on and off the ice, and after three years of being an impact player in net for North Iowa, Babekuhl has a chance to make an immediate impact on the ice for the Cobbers next season. Other than senior goaltender Cam Haugenoe, who went 3-3-1 for the Cobbers in 2019-20, no goaltenders currently on Howe's roster have ever appeared in a Concordia hockey game.
"There was a big combination of factors. I have a lot of family up in North Dakota, so they're not too far away, and the cost of the school was brought down a ton this year, so that was a big factor," said Babekuhl.
"Coach Howe is a very respected coach – he respects his players' opinions just like [Coach] Sanden, and going in and fighting for a spot my first year is probably one of the bigger things too. A lot of the other schools I was talking to, that wasn't an option. Here, it is."
Babekuhl's resume and experience could give him an inside track to the Cobbers' starting lineup - the Long Lake, Minnesota native enters the month of March with 35 career wins as a North Iowa Bull, second only to Matthew Bartels's 41. He also carries a .912 career save percentage and 2.41 career goals-against average into his final month of regular-season junior hockey.
He was one of the first of a number of recent stars to make the transition to the Bulls from Orono High School's program in the Twin Cities. Babekuhl played three years for the Spartans, earning 34 wins over his prep career and leading the team to its first-ever Minnesota state championship in 2018.
He has already earned recognition in league circles for his outstanding play as well, earning a spot in the NA3HL's 2020 Top Prospects event in Attleboro, Massachusetts last season. Once again, Babekuhl was up to the task on the big stage, making 41 saves on 42 shots and winning two of the West Division's three games on the way to a Top Prospects championship.
He becomes the sixth former North Iowa Bull to land a spot on the roster in Moorhead, with two Bulls alumni currently in Howe's program. This year's team won its only game at St. Mary's on February 6, but has since faced a wave of postponements and cancellations.
"Coach Sanden does a wonderful job of developing players of character, and we have always had success with North Iowa Bulls in our program," said Howe. "Our last three players from the Bulls left a great legacy in our program."
Click here for an NA3HL college commitment list