Rochester forward Hart makes NCAA commitment
March 8, 2021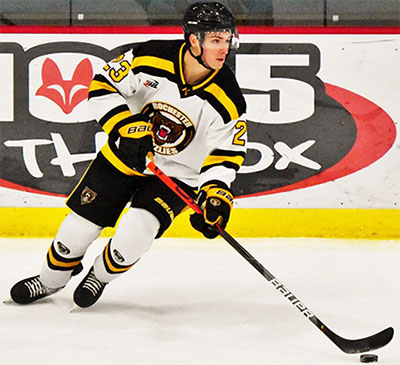 The Rochester Grizzlies of the NA3HL are pleased to announce that third-year Grizzlies forward Peyton Hart has committed to play NCAA Division III hockey for the University of Wisconsin-Stout.
Nobody has played more games for the Rochester Grizzlies than Hart. As part of a trio of players that have been around for every season of the organization's existence, Hart is the leader of the black-and-gold both on and off the ice. Not only does he don the "C" on his sweater, but with 39 points already this year, he sits atop the team's scoring leaderboard for the 2020-21 season.
"We are so excited for Peyton, he has grown so much as a player and a person in his three years in Rochester," said Grizzlies Head Coach Chris Ratzloff. "He has led our team the last two years and has developed into a dominant player for us. His hard work and determination has pushed him to be a more productive player on and off the score sheet. We look forward to seeing his college successes on and off the ice."
In addition, Hart is the team's current all-time leading scorer with 118 points, all-time leader in games played with 126 games, and assists with 70.
"The Grizzlies organization has been nothing but great to me over the past three seasons," said Hart. "Coach Mignone, Coach Ratzloff, Coach Aikens, and Coach Balko, have all shared with me the skills necessary to get to the next love of my hockey career. Mr. [Mike] Cooper as well as all my teammates over the years have been very supportive of me on and off the ice. There is no other team I would rather play junior hockey for than the Grizzlies, and I'm excited for what the future holds for our team as we approach the playoffs."
Hart becomes the third Grizzlies player to commit during the 2020-21 regular season following Dylan Schneider (Augsberg) and Joey Fodstad (Concordia).
Click here for an NA3HL college commitment list