Rochester forward Gernander makes NCAA commitment
March 9, 2021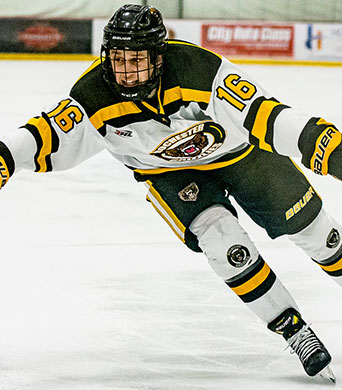 For the second day in a row, the NA3HL's Rochester Grizzlies have a player announcing their collegiate intentions with forward Micah Gernander committing to play NCAA Division III hockey for Gustavus Adolphus (MIAC).
Gernander, 19, is in his first season with the Grizzlies after playing two years of high school hockey with Greenway High in Coleraine, MN. Through 30 games this season, the forward has logged 15 total points on six goals and nine assists.
"Micah has been a great addition this season," said Grizzlies Head Coach Chris Ratzloff. "His hockey IQ is high and he can shoot the puck and most importantly he makes little plays all over the rink. He's not flashy but always solid with good compete; the type of player coaches appreciate. We can use Micah in any and all situations. It has been great getting to know Micah more this season and have no doubt that he will continue to develop and be a great asset to the Gusties."
Gernander, originally from Connecticut, has spent the last few years in Minnesota and will continue that trend when he joins the St. Peter, MN, based Gustavus Aldouphus.
"My time in Rochester up until this point has been great," said Gernander. We have a very good coaching staff that has helped me grow and develop as a player. Every day you come into practice and you are being pushed to play your best. It's been a very fun year so far with all the guys, but I am also very excited to start my next four years at Gustavus. Everything about Gustavus Aldophus seems to suit me very well and I'm sure it will be a great fit."
Gernander becomes the fourth Grizzlies player this season to announce a commitment behind Dylan Schneider (Augsberg), Joey Fodstad (Concordia), and most recently, Peyton Hart (Wisconsin-Stout).
Click here for an NA3HL college commitment list