North Iowa forward Triemert makes NCAA commitment
March 11, 2021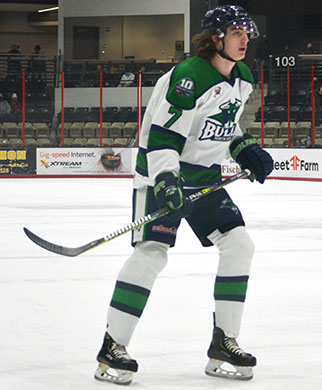 The North Iowa Bulls, proud members of the North American 3 Hockey League (NA3HL), are excited to announce that forward Jac Triemert has committed to play NCAA Division III hockey at Gustavus Adolphus College beginning in the 2021-22 season.
With Triemert's commitment, the Gusties become the third MIAC program to land a top Bulls talent in as many weeks.
"Jac's a big-bodied forward who has the ability to put pucks in the net," said North Iowa head coach and general manager Todd Sanden. "He's better when he plays a physical role and takes time and space away from his opponents. He's a great locker room guy and a great glue guy for any team he's going to be on, and we wish him tons of success at Gustavus."
The tall, strong and often resourceful Triemert made a solid first impression in 2019-20 for the Bulls, notching 20 points in 43 games on the way to the team's seventh division championship in a nine-year span. He spent nearly three months out of the lineup with injuries this season, but still posted points in six of his first 10 games on the way to a five-goal, four assist effort thus far in 2020-21.
"I have family members [at Gustavus]," said Triemert. "I had two brothers who went there and played hockey, and they loved it there. They played club hockey, but they know the school and the coaches."
The Woodbury, Minnesota native will join a Gusties program led by longtime head coach Brett Petersen, who is nearing 250 career wins. Last year's team came up just one game short of a .500 finish, while this year's team sits at 0-5 in an abbreviated season. Three of those losses have come by just a single goal. Three players on this year's Gustie roster are former Bulls themselves, with senior Nick Klishko and junior Connor Clemons joining the program from NCAA Division III teams in Wisconsin. Daniel Sandvig has been with the program in all of his three seasons of junior hockey and is currently tied for the team scoring lead.
"(Assistant) coach Rory Dynan also said he loves having the North Iowa Bulls players there, and he's looking forward to having me there," said Triemert.
He joins teammates Cal Nauss and Evan Babekuhl on the Bulls' college commitment list for this season, following their commitments to St. Mary's and Concordia, respectively. He becomes the fourth Bulls player all-time to commit to the Gusties, and the first since Sandvig in the 2017-18 season.
More than 150 North Iowa Bulls players have gone on to play college hockey in NCAA or ACHA programs, with nine of them reaching the NCAA Division I level. More than two dozen players across the NA3HL have already made commitments this season to NCAA Division III programs.
Click here for an NA3HL college commitment list