Steel, Jr. Hat Tricks, Icedogs win on St. Patrick's Day
March 18, 2021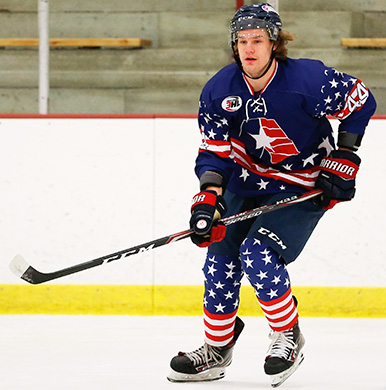 New Ulm 5 @ Granite City 3 – The Steel put a dent in Granite City's division title hopes thanks to a 5-3 win on Wednesday. Griffin Foster made 46 saves in the win and five different players scored for New Ulm. The Steel led 3-0 midway through the contest thanks to goals from Bauer Barry, Tommy Michelsen, and Jake Saver. The Lumberjacks got two goals on the board later in the 2nd period from Carson Simon and Shane Prifrel, but a goal from New Ulm's Corey Stormer made it a 4-2 contest after two periods. The Steel cemented the win thanks to a 3rd period goal from Joey Gimberlin. Simon added his second of the game late in the contest to make it a 5-3 final. Josh Weyandt took the loss in goal, making 18 saves.
Titans 2 @ Jr. Hat Tricks 4 – Four different players scored for the Jr. Hat Tricks in a 4-2 win over the Titans on Wednesday. The Jr. Hat Tricks took an early 2-0 lead thanks to goals from Misha Mshar and Dylan Webber. Before the period was over, the Titans cut the lead down to 2-1 with a goal from Philippe Doucette. Danbury took a 3-1 lead in the 2nd period thanks to a power play goal from Kyle Madigan. The Titans would again cut the lead down to one early in the 3rd period thanks to a goal from George Haigley, but just :25 seconds after that, the Jr. Hat Tricks secured the 4-2 win thanks to a goal from Wesley Westendorf. Danbury goalie Nathan Hadley made 19 saves in the win, while Grant Goodson made 28 saves in the loss.
Great Falls 4 @ Bozeman 3 (OT) – In a back-and-forth game, the Ice Dogs took a big step towards securing home ice in the first round of the playoffs thanks to a 4-3 overtime win in Bozeman on Wednesday. Four different players scored for the Americans in the win, including Nick Silance in the 1st period, Tyler Lorring and Jake Hayes in the 3rd period, and Jackson Henningsgard in overtime. Meanwhile, the Icedogs goals all came in the 3rd period from Chase White, Kai Kingery, and Terrell Hood. Ben Winkler made 28 saves in the win, while Brandon Kenney made 41 saves in the loss.