Saturday Scores: Mustangs winning streak continues
March 21, 2021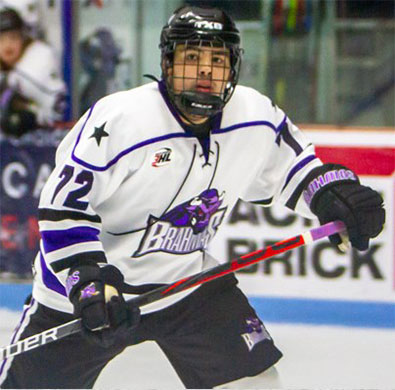 Peoria 11 @ Wausau 1 - The Mustangs' offense ran wild on Saturday, with Heath Drye, Jared Wisely and Ethan Chesney highlighting an 11-1 win over the RiverWolves with two-goal performances all around. Jaycob Bland, Zachary Pearce, Thomas Kayner, Connor Bennett and George Giese capped off a rampant attack for Peoria in front of 23 saves from Andrew Doran in goal. Wausau counted on a 45-save showing from Caleb Sauer, and a goal from Brady Rothe in the loss.
Oklahoma City 3 @ TX Brahmas 4 (SO) - Michael Imala scored twice in regulation, Matej Palfy netted the shootout winner and Dolan Gilbert shut down all three Blazers in the breakaway contest to help the Brahmas take a 4-3 shootout victory on Saturday. Jacob Kalandyk rounded out the Texas scoring during 60 minutes of play, while Patrick Wyers put Oklahoma City on the board early and Anton Thelander scored twice late for the Blazers to force extra time. Gilbert stopped 39 shots in the win, while Jacob Ahl faced down 17 for Oklahoma City.
Granite City 4 @ North Iowa 3 - This West Division playoff preview had it all, as the Bulls raced out to a 3-1 lead through most of two periods, but the Lumberjacks roared back with three consecutive tallies in the final 21 minutes for a thrilling 4-3 road victory. Granite City's Carson Simon grabbed the lone goal of the first period, setting the Lumberjacks up nicely, but Caden Smith, Brendan Sloth and Jack Campion had the Bulls cruising with a goal apiece in the second period. Simon, however, found twine with just seconds left in the middle frame to give Granite City a chance heading into the third, where Hanson O'Leary and Tucker Skime put the Lumberjacks ahead for good. Bailey Huber turned aside 33 shots for the win, outdueling North Iowa's Max Gutjahr, who stopped 18 in the loss.
Sheridan 3 @ Gillette 2 - Sheridan's Derek Humphreys proved heroic on Saturday, scoring twice in the first period to pace a 3-2 win over the Wild, marking the Hawks' 36th straight win as the regular season draws nearer to its end. After Humphreys' first goal, Will Blake answered within two minutes for Gillette early in the contest. Humphreys' added his second goal fewer than 90 seconds later, though, and Nathan Gilleshammer grabbed what would be the game-winning goal late in the frame. Carson Kuche scored in the second period for Gillette, giving his team a chance at snapping Sheridan's remarkable run, but Hawks' goaltender Christian Wong-Ramos was not to be beaten anymore, finishing with a stout 43 saves and a well-earned win. Gillette goaltender Alex Shaults was a stud in his own right on Saturday, sopping 45 of 48 shots in the loss.
Atlanta 4 @ Louisiana 1 - Four skaters lit the lamp and Matthew Genter stopped 34 of 35 shots that came his way as the Capitals cruised past the Drillers 4-1 on Saturday. Nicholas Cyprian, Jesse Kittay, Gunner Moore and Eddie Slack provided Atlanta's offense, while Jack Lambert struck for the lone Louisiana tally. Drillers goaltender Chris Branch stopped 40 pucks in a busy night, despite the loss.
New England 1 @ Northeast 3 - After Dylan Harbour put New England ahead in the second period, the Generals responded with three unanswered tallies to take a 3-1 win over the Sharks at home. Jacob Kosinski, James Clarke and Nicklaus Obourn led the comeback charge, with Espen Reager stopping 28 pucks to seal the win. Sharks goaltender Artem Lantukh turned aside an impressive 40 shots in his team's defeat.
Great Falls 5 @ Missoula 2 - A fast start from Great Falls paid off on Saturday, as the Americans raced out to a 3-0 advantage and never looked back, riding a two-goal effort from Jake Hayes and 15 saves from Ben Winkler to a 5-2 win over the Jr. Bruins. Henry Chavez, Kellen Harris and Micah Serino rounded out Great Falls' scoring, while Jacob Saenger and Mason Mowat tallied for Missoula, who received 27 saves from Maxim Currie between the pipes.
Mass 5 @ Springfield 7 - It was a goal-fest in Springfield on Saturday, with each team scoring in bunches as the Jr. Hat Tricks ultimately took home a 7-5 win over the Titans. Misha Mshar and Nate Mastrony led the charge for Springfield with two goals apiece, with other impressive contributions from Kolby Donovan (1g,2a), Nick Cullinan (1g,2a) and Connor Lefkof (3a). Nikita Kovalev finished off the Springfield scorers' list with a goal of his own, and Nathan Hadley turned aside 24 pucks in the wild win. Mass, buoyed by two goals from Brandon Avezov and individual goals from George Haigley, Tanner Smith and Philippe Doucette, attempted a late comeback, but their three-goal third period fell just short. Titans goaltender Grant Goodson stopped 35 of 41 shots in the loss.
Alexandria 4 @ New Ulm 1 - Colin Tushie's hat-trick led the way as the Blizzard blitzed the Steel for a 4-1 win on Saturday. Nikolaj Rajala potted the other Alexandria goal, while Tommy Michelsen posted New Ulm's lone marker. Bailey Rosch stopped 37 shots for the Blizzard win, outmatching New Ulm's Zach Foster, who stopped 26 in the loss.
Helena 4 @ Butte 5 (OT) - The Cobras rode a three-goal third period to force overtime, where Nick Bradshaw came through to give Butte a 5-4 win over the visiting Bighorns on Saturday. Luke Schlensner got Butte on the board, while Pavel Gerasimenko, Zane Cluphf and Randy Yeakley led the late third-period comeback. Alex Bailey, Andrew MacCallum, Harlan Wojtusik and Gavyn Galloway provided Helena's offense through 60 minutes in front of a whopping 46 saves from Kaden Biagi in net. Butte goaltender Skyler Coard was a star between the pipes, though, as he stopped 61 of 65 shots in the thrilling OT victory.