Blizzard, Lumberjacks, Capitals win on Sunday
March 22, 2021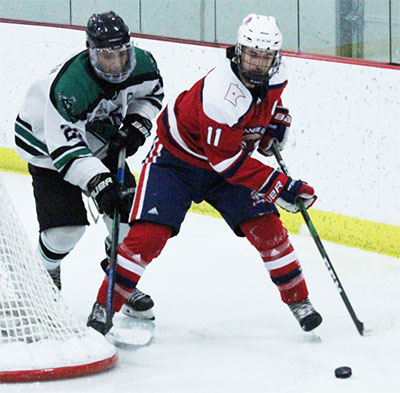 Alexandria 5 @ Willmar 2 – Colin Tushie had a hat-trick and Atticus Kelly made 43 saves to lead the Blizzard to a 5-2 win over the WarHawks on Sunday. The Blizzard opened up a 4-0 lead and never looked back as Austin McNeil scored in the 1st period, Tushie and Nolan Westra scored in the 2nd period and Tushie would add his second goal early in the 3rd period before Willmar would break through. The WarHawks cut the lead down to 4-2 with goals from Ben Luedtke and Dylan Gajewski, but Tushie's third of the game later in the period secured the 5-2 win. WarHawks goalie Cooper Olson took the loss with 13 saves.
Granite City 5 @ New Ulm 0 – The Lumberjacks kept their West Division title hopes alive with a 5-0 shutout of the Steel on Sunday. Cody Dias had two goals and an assist and goalie Josh Weyandt made 18 saves in the shutout win for the Lumberjacks. After a scoreless 1st period, Granite City took a commanding 3-0 lead in the 2nd period with a pair of goals from Dias and another from Brett Reed. Tucker Skime and Braeden Bartoo would tack on two more goals in the 3rd period to complete the 5-0 win. Steel goalie Griffin Foster made 39 saves in the losing effort.
Atlanta 4 @ Louisiana 3 (SO) – The Capitals completed a three-game weekend sweep of the Drillers thanks to a 4-3 shootout win on Sunday. The Drillers led 1-0 early on a goal from Timothy Miller. The Capitals then took control later in the opening period, tallying three goals from Nicholas Cyrpian, Nick Mumford, and Noah Smith to take a 3-1 lead. The Drillers fought back with a pair of power play goals, both from Frank Steinway to tie the game at 3-3. In the shootout, both Gunner Moore and Cyprian scored to give the Capitals the win and sweep. Capitals goalie Joe Pearson made 29 saves in the win, while Jacob King made 38 saves in the shootout loss.