North Iowa defenseman Huffman gets call to NAHL
March 23, 2021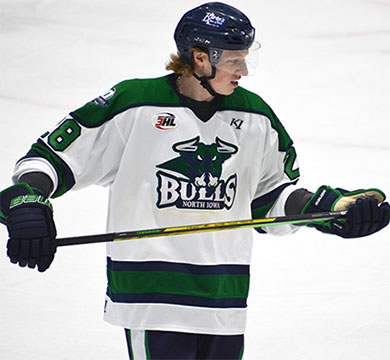 The North Iowa Bulls, proud members of the North American 3 Hockey League (NA3HL), are excited to announce that defenseman Caleb Huffman was called up to make his North American Hockey League (NAHL) debut Saturday night with the Kenai River Brown Bears.
Huffman earned a spot in the lineup in a 4-2 loss to the Ice Dogs, his first time on the ice with the Brown Bears since attending their tryout camp this past October.
"They were banged up with some injuries and suspensions, so that gave Caleb a chance as a tender of theirs to jump in as an affiliate player," said North Iowa head coach & general manager Todd Sanden. "That's always the goal of our program, to move players up as often as we can, as early as we can and whenever we can. We would have loved to have had Caleb's services in the game on Saturday against Granite City, but this is a developmental level and that's the right thing to do."
He has long been on the Brown Bears' radar, earning the team's 10th-round draft pick last summer and signing a tender with Kenai River early in the season. His tender signing was North Iowa's earliest NAHL tender ever for any one season, coming shortly after tender signings opened up on November 1.
Huffman's move back to the Brown Bears also marks another example of the NAHL's "Ladder of Development" at work, after his three years in the North American Prospects Hockey League. He not only spent two years in the NAPHL with his Meijer AAA squad, but also played on the Alaska Oilers' 15-and-under NAPHL squad. 27 NA3HL players signed tenders with NAHL teams last season, with North Iowa players inking five of those.
The Anchorage, Alaska native did not factor into the scoring in the contest, but teammate and former North Iowa Bulls star Lucas Wahlin did, scoring a game-tying goal on the power play late in the second period. Former Bulls defenseman Evan Junker was on the other side of the box score, but did not register a point for Fairbanks in the contest. His NAHL debut places him among nearly 50 North Iowa players who have gone on to play at the Tier II level following a stint in a Bulls uniform. Nine of those players have gone on to NCAA Division I rosters.