NA3HL announces Stars of the Week presented by Bauer Hockey
March 23, 2021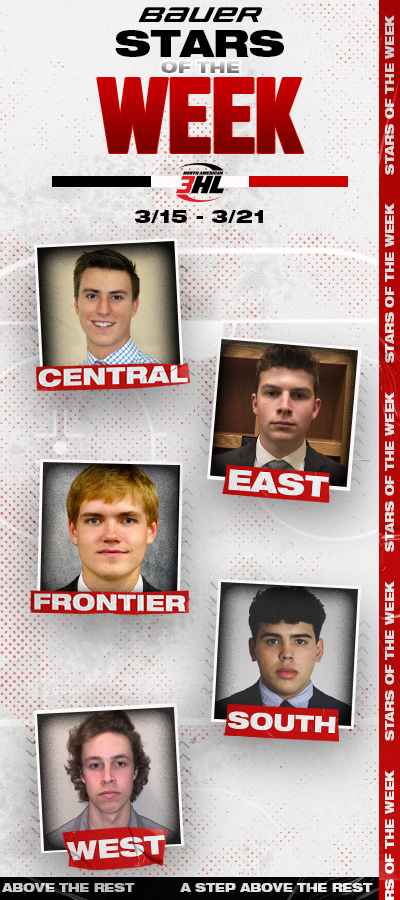 The North American 3 Hockey League (NA3HL) today announced the Divisional Stars of the Week presented by Bauer Hockey for the week ending March 21, 2021. The divisional stars of the week are awards given each week of the regular season to the top-performing players in each of the five divisions of the NA3HL as nominated by their head coaches.
Central Division Star of the Week: Peyton Hart, F, Rochester Grizzlies
Hart put up 1g-4a—5pts in a pair of games for Rochester last week, stretching his points streak to four games in the process. The Delafield, WI native scored one and assisted another Thursday, then put his playmaking abilities on display with three helpers on Friday. Hart boasts 1g-8a—9pts on his current four-game run, and a career-high 21g-27a—48pts in just 40 games on the year.
2nd Star: Heath Drye, F, Peoria Mustangs
Honorable Mention (alphabetical): Blake Arneson, D, Rochester Grizzlies — Jared Wisely, D, Peoria Mustangs
East Division Star of the Week: James Clarke, F, Northeast Generals
Clarke recorded 4g-2a—6pts in three outings last week. Coming off of a 1g, 1a effort on the 14th, the native of Lutterworth, UK picked right back up with another goal and assist on Tuesday. Clarke then posted two goals and a helper on Friday for his second game with three or more points this month and third straight multi-point effort, before potting the game-winning goal in Saturday's victory over New England. Clarke's hot week saw him inflate his season marks to 26g-31a—57pts in 35 games.
2nd Star: Philippe Doucette, F, Mass Titans
Honorable Mention (alphabetical): George Haigley, F, Mass Titans — Espen Reager, G, Northeast Generals
Frontier Division Star of the Week: Jackson Henningsgard, F, Great Falls Americans
Henningsgard was at his playmaking best last week, nabbing a goal and six helpers in three games. His strongest performance came in the first game of the week; after notching three assists for a second consecutive contest, the native of Amery, WI lit the lamp in overtime to seal Great Falls' win over Bozeman on Wednesday. From there, Henningsgard posted two assists on Friday, and closed out the week with another helper on Saturday. The 2002-born rookie is up to 7g-15a—22pts in 21 NA3HL contests this season.
2nd Star: Nick Bradshaw, F, Butte Cobras
Honorable Mention (alphabetical): Robin Bagley, F, Butte Cobras — Kaden Biagi, G, Helena Bighorns — Jake Hayes, F, Great Falls Americans — Andrew MacCallum, F, Helena Bighorns — Mason Mowat, F, Missoula Jr. Bruins — Jacob Saenger, F, Missoula Jr. Bruins
South Division Star of the Week: Michael Imala, F, Texas Brahmas
Imala tallied four goals in two games last week to snap an eight-game streak without a goal and pace the Brahmas' two wins. The Chicago, IL native tallied twice on Tuesday against Mid Cities, then put up another double on Saturday against Oklahoma City. A 2002-born skater, Imala has now logged 8g-12a—20pts in 33 games as a rookie this year.
2nd Star: Tim Miller, F, Louisiana Drillers
Honorable Mention (alphabetical): Jacob Kalandyk, F, Texas Brahmas — Frank Steinway, D, Louisiana Drillers
West Division Star of the Week: Colin Tushie, F, Alexandria Blizzard
Tushie was nearly unstoppable in two games for Alexandria last week, recording back-to-back hat-tricks to carry the Blizzard to a crucial pair of wins as the West Division playoff teams continue to jockey for position. Tushie bagged two in the second period and one in the third in a 4-1 victory over New Ulm on Saturday, then netted one in the middle stanza and two in the final frame to fuel a 5-2 Alexandria win over third-place Willmar on Sunday. A native of Prior Lake, MN, Tushie boasts 17g-10a—27pts in 30 games this season.
2nd Star: Carson Simon, F, Granite City Lumberjacks
Honorable Mention (alphabetical): Braeden Bartoo, F, Granite City Lumberjacks — Garrett Freeman, F, North Iowa Bulls — Lukas Haugen, G, Willmar Warhawks — Brendan Sloth, D, North Iowa Bulls