March 26, 2021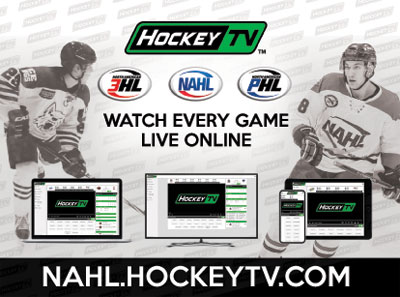 It all comes down to this, one final weekend of the 2020-21 NA3HL regular season before the start of the 2021 Fraser Cup Playoffs.
While five of the six division champions have been crowned for the regular season, there is still one division left to be decided. In addition, there are still seedings on the line as well.
It was another good week for advancement for as over 30 NA3HL players have made NCAA commitments to date and two more players got called up to the NAHL this past week.
The playoff seedings and spots are set in the Central and Frontier Divisions. Besides that, the final weekend's games will determine who plays who in the playoffs. The Jr. Hat Tricks need just a single point to clinch the #2 spot in the East. In the South, Oklahoma City needs three wins in their final three game to take over the #2 spot from El Paso, whom they will face in the playoffs. The big intrigue is in the West, where Granite City and North Iowa control their own destiny to win the title. Alexandria also has a chance to catch Willmar for the #3 seed.
The five divisional playoff champions along with one wild card team will advance to the NA3HL Fraser Cup Championship Tournament, where they will play a two- game round-robin format followed by a semi-final and a championship game at the St. Peters Rec Plex in St. Peters, Missouri from April 15-19. The five divisional playoff winners will be seeded 1-5 based on their regular season point totals. The wild card team that will be seeded 6th will be the team with the highest winning percentage to lose in the division finals. A round-robin format with two pools will be implemented, with the top two teams in each pool advancing to the Semi-Finals, where they will then cross over to play the other top two teams from the other pool. The winners of the Semi-Finals will advance to the Fraser Cup Championship Game.
Follow the games on the NA3HL App:
Download the iOS App Store version here
Download the Google Play version here
All games broadcast live on HockeyTV.
FRI, MARCH 26
New England at Springfield - 12:30 PM EDT
Mass Titans at Northeast - 2:30 PM EDT
Oklahoma City at Louisiana - 4:05 PM CDT
New Ulm at Alexandria - 7:10 PM CDT
North Iowa at Granite City - 7:30 PM CDT
St. Louis at Oregon - 7:30 PM CDT
Bozeman at Gillette - 7:05 PM MDT
Helena at Sheridan - 7:30 PM MDT
SAT, MARCH 27
Oklahoma City at Louisiana - 9:05 AM CDT
Springfield at New England - 6:15 PM EDT
Mass Titans at Bay State - 7:30 PM EDT
North Iowa at Granite City - 7:30 PM CDT
St. Louis at Oregon - 7:30 PM CDT
Bozeman at Gillette - 7:05 PM MDT
Willmar at Alexandria - 8:10 PM CDT
Helena at Sheridan - 7:30 PM MDT
SUN, MARCH 28
Bay State at Mass Titans - 11:30 AM EDT
St. Louis at Oregon - 1:00 PM CDT
Oklahoma City at Louisiana - 4:05 PM CDT
Alexandria at Granite City - 5:00 PM CDT
New England at Springfield - 6:00 PM EDT
Willmar at New Ulm - 7:10 PM CDT