Saturday Scores: Bulls win West in regular season finale
March 28, 2021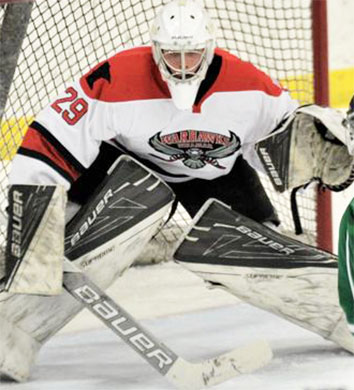 North Iowa 3 @ Granite City 1 - The Bulls erased an early deficit with three unanswered markers to take a 3-1 win over the Lumberjacks and clinch the top spot in the West Division heading into the playoffs. Tucker Skime got Granite City on the board in the first period, but Kyle Heffron and Carter Newpower responded for North Iowa in the middle frame. Carson Jones later chipped in an empty-net tally to seal the Bulls' win in front of 28 saves from Carsen Stokes. Granite City's Bailey Huber finished with 19 stops in the loss.
Willmar 2 @ Alexandria 0 - Lukas Haugen was unbeatable between the pipes on Saturday, stopping all 39 shots that came his way to carry the Warhawks to a key 2-0 road win over the Blizzard. Alex Kupka scored in the second period and Isaiah Thomas found twine in the third to provide Willmar's offense in this one, as Alexandria netminder Atticus Kelly finished with 42 saves in his team's defeat.
Oklahoma City 4 @ Louisiana 1 - A three-goal second period fueled the Blazers to a 4-1 win over the Drillers on Saturday night. Brady Snedden, Tommy Duren, Patrick Wyers and Artem Korolev provided the offense for the victors, while Trevor Souza put Louisiana on the board. Olivier Charbonneau was stout in net with 33 saves for the win, outmatching Jacob King's impressive 47 saves for Louisiana.
Springfield 8 @ New England 3 - Carson Holliday, Cole Madzey and Nick Cullinan each scored twice, Landon Palmer and Trey Hirschfield combined for 28 saves and the Jr. Hat Tricks cruised past the Sharks for an 8-3 win on the road. Brandon Cope and Misha Mshar rounded out the Springfield scoring, with Dylan Webber also starring with three assists. Zan Mojzer scored twice to pace New England's efforts, while Aleksandr Gamzatov chipped in another goal and Sebastian Couturier stopped a stunning 48 pucks despite the loss.
Mass 3 @ Bay State 4 (SO) - John Kosa tallied the lone goal of the shootout in the seventh round to help the Bobcats past the Titans 4-3 on Saturday. Landon Boothe, Jerzy Gus and Zakary Justice lit the lamp for Bay State during the first 60 minutes, while Brett Bell, Philippe Doucette and Brandon Avezov did the same for Mass. Zack Roncarati earned the win with 37 saves and seven more in the shootout, just outmatching Ethan Kavanaugh's 41 saves in the Titans' cage.
St. Louis 4 @ Oregon 8 - The Tradesmen got off to a hot start on Saturday and never looked back, riding two Parker Severson goals and individual tallies from six other skaters to an 8-4 win over St. Louis. Gunnar Schiffmann, Sam VanderHoeven, Ethan McCormack, Devin Hays and Abe Laggis each found twine for Oregon, while Jared Bratton, Chase Morgan, Matt McGowan and Riley Howse helped St. Louis respond. Jr. Blues netminder Owen Carlson was stout in goal, stopping 58 of 66 shots, but Oregon's Cole Garver was sharper with 36 saves on 40 shots to pick up the win.
Bozeman 4 @ Gillette 5 - Carson Kuche's hat-trick led the way up front, Connor Sullivan held down the fort with 30 saves and the Wild edged out the Icedogs for a 5-4 home win on Saturday. Kuche struck twice to put Gillette up by a pair midway through the contest, before Keegan Kemper and Kadyn Fennell of Bozeman sandwiched a Will Blake tally for the Wild to make it a 3-2 Gillette lead entering the third. Blake Nerney leveled scores 11 minutes in, but Kuche completed the hat-trick, and Hunter Beckett added another for Gillette to seal the win, despite Sam Bourdon's late Bozeman strike. Brandon Keeney of Bozeman finished with 40 saves in the loss.
Helena 1 @ Sheridan 4 - Behind a pair of Nick Wieben goals and 35 saves from Christian Wong-Ramos, the Hawks again flexed their muscle in a 4-1 win over the Bighorns to finish the regular season on a 38-game winning streak and with a remarkable 39-1-0-0 record. Justin Schwartzmiller and Derek Humphreys joined Wieben in the Sheridan goal column, while Luke Theisen grabbed a consolation tally for Helena, who received 44 stops from Anthony Adleman in goal.