Mustangs, WarHawks, Americans open playoffs with wins
April 2, 2021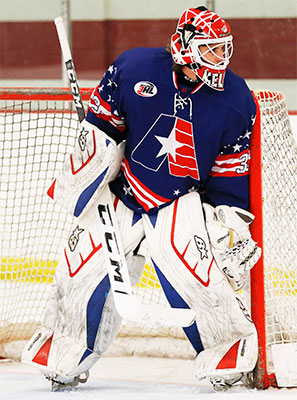 Central Division Semi-Finals, Game 1: St. Louis 1 @ Peoria 3 (Peoria leads series, 1-0) – Cole Walter made 23 saves and Jaycob Bland scored twice to lead the Mustangs to a Game 1 win on Thursday. Peoria got off to a fast start thanks to two goals in the 1st period from Ethan Chesney and Bland. The Jr. Blues cut the lead down to 2-1 as Joey Solimando scored in the 2nd period, but another goal from Bland later in the period secured the 3-1 win. Jr. Blues goalie Danny Fraga made 34 saves in the loss.
West Division Semi-Finals, Game 1: Willmar 4 @ Granite City 3 (Willmar leads series, 1-0) – The WarHawks built an early lead and then hung on for a 4-3 road win in Granite City on Thursday. Four different players scored for the WarHawks in the win and Lukas Haugen made 33 saves. It was all WarHawks in the first half of the game as they built up a 4-0 lead, which included three goals in the 1st period from Ethan Light, Isaiah Thomas, and Alex Kupka, and a 2nd period goal from Gavin Uckele. The Lumberjacks attempted a comeback later in the 2nd and 3rd period with goals from Hanson O'Leary, Ben Anderson, and Tal Halliday, but could not find the equalizer late in the game. Lumberjacks goalie Bailey Huber made 27 saves in the loss.
Frontier Division Semi-Finals, Game 1: Great Falls 2 @ Gillette 0 (Great Falls leads series, 1-0) – Americans goalie Trever Mellen stopped all 48 shots that came his way as the Americans picked up a 2-0 road win in Game 1 of their series against the Wild. The Americans took a 1-0 lead in the 1st period thanks to a goal from Micah Serino. The second goal would not come until late in the 3rd period as Jackson Henningsgard added an empty-net goal. Wild goalie Cole Wheaton played well in the loss, making 29 saves on 30 shots.