April 2, 2021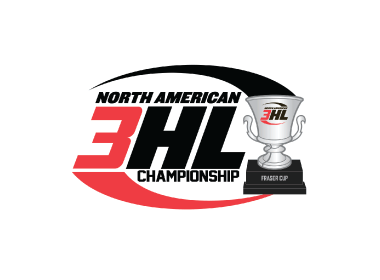 It is the most wonderful time of the year for the NA3HL as the 2021 Fraser Cup Playoffs are underway and continue this weekend with the Division Semi-Finals.
The Club seeded first in each division will compete in a best-of-three series with the fourth seeded Club in the same division. The Club seeded second in each division will compete in a best-of-three-series against the Club seeded third in the same division. The #1 and #2 seeds will have home ice advantage in the first round. The first club to win two games in a division semifinal series will be declared the winner of the series and advance to the Division Finals.
Following the Division Finals, the five divisional playoff champions along with one wild card team will advance to the NA3HL Fraser Cup Championship Tournament, where they will play a two- game round-robin format followed by a semi-final and a championship game at the St. Peters Rec Plex in St. Peters, Missouri from April 15-19. The five divisional playoff winners will be seeded 1-5 based on their regular season point totals. The wild card team that will be seeded 6th will be the team with the highest winning percentage to lose in the division finals. A round-robin format with two pools will be implemented, with the top two teams in each pool advancing to the Semi-Finals, where they will then cross over to play the other top two teams from the other pool. The winners of the Semi-Finals will advance to the Fraser Cup Championship Game.
Follow the games on the NA3HL App:
Download the iOS App Store version here
Download the Google Play version here
All games broadcast live on HockeyTV.
Central Division
#1 Rochester Grizzlies vs. #4 Oregon Tradesmen
Game 1: Friday, April 2 @ Rochester, 7:05pm
Game 2: Saturday, April 3 @ Rochester, 7:05pm
Game 3: Sunday, April 4 @ Oregon, 3:00pm*
#2 Peoria Mustangs vs. #3 St. Louis Jr. Blues (Peoria leads series, 1-0)
Game 1: St. Louis 1 @ Peoria 3
Game 2: Friday, April 2 @ St. Louis, 7:00pm
Game 3: Sunday, April 4 @ Peoria, 1:00pm*
East Division
#1 Northeast Generals vs. #5 New England Sharks
Game 1: Friday, April 2 @ Northeast, 7:00pm
Game 2: Saturday, April 3 @ New England, 2:15pm
Game 3: Monday, April 5 @ Northeast, 7:00pm
#2 Danbury Jr. Hat Tricks vs. #3 New Jersey Titans
Game 1: Friday, April 2 @ Jr. Hat Tricks, 7:00pm
Game 2: Saturday, April 3 @ Titans, 3pm
Game 3: Monday, April 5 @ Jr. Hat Tricks, 12:30pm*
Frontier Division
#1 Sheridan Hawks vs. #4 Missoula Jr. Bruins
Game 1: Friday, April 2 @ Sheridan, 7:30pm
Game 2: Saturday, April 3 @ Sheridan, 7:30pm
Game 3: Sunday, April 4 @ Sheridan, 4:00pm*
#2 Great Falls Americans vs. #3 Gillette Wild (Great Falls lead series, 1-0)
Game 1: Great Falls 2 @ Gillette 0
Game 2: Friday, April 2 @ Great Falls, 7:30pm
Game 3: Saturday, April 3 @ Great Falls, 7:30pm*
South Division
#1 Texas Brahmas vs. #4 Atlanta Capitals
Game 1: Friday, April 2 @ Texas, 8:00pm
Game 2: Saturday, April 3 @ Texas, 4:00pm
Game 3: Sunday, April 4 @ Texas, 4:00pm*
#2 Oklahoma City Blazers vs. #3 El Paso Rhinos
Game 1: Friday, April 2 @ Oklahoma City, 7:05pm
Game 2: Saturday, April 3 @ Oklahoma City, 7:05pm
Game 3: Sunday, April 4 @ Oklahoma City, 3:00pm*
West Division
#1 North Iowa Bulls vs. #4 Alexandria Blizzard
Game 1: Friday, April 2 @ North Iowa, 7:30pm
Game 2: Saturday, April 3 @ Alexandria, 7:10pm
Game 3: Sunday, April 4 @ North Iowa, 5:30pm*
#2 Granite City Lumberjacks vs. #3 Willmar WarHawks (Willmar leads series, 1-0)
Game 1: Willmar 4 @ Granite City 3
Game 2: Friday, April 2 @ Willmar, 6:10pm
Game 3: Saturday, April 3 @ Granite City, 7:30pm*
*if necessary