Saturday Scores: Hawks punch ticket to St. Louis, Division Finals
April 4, 2021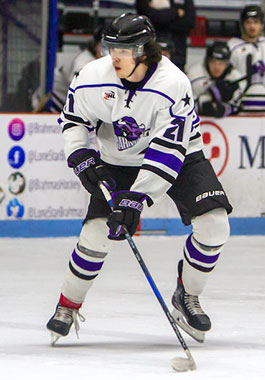 Frontier Division Semi-Finals, Game 2: Missoula 1 @ Sheridan 10 (Sheridan wins series, 2-0) - The Hawks' winning ways have carried on into the playoffs, as hat-tricks by Justin Schwartzmiller and Logan Syrup paced another rampant Sheridan win, this time 10-1 over the Bruins to advance to the Frontier Division Final. With the win, the Hawks now guarantee themselves a spot at the Fraser Cup in St. Louis, either as the divisional playoff champion, or wild card since they have the best record of the remaining teams in the playoffs. Jonathon Teasdale, Luke Desmarais, Brice French and Davis Smidt each chipped in goals for Sheridan as well, while Austin Franck put up the lone Missoula goal. Bruins netminder Maxim Currie stopped 45 of 55 shots, but it was Christian Wong-Ramos in the Hawks' cage earning the win with 34 stops on 35 shots.
East Division Semi-Finals, Game 2: Jr. Hat Tricks 3 @ Titans 5 (Titans win series, 2-0) - Brett Bell and Brandon Avezov each chipped in a pair of goals and assists apiece to help the Titans knock off the Jr. Hat Tricks 5-3, completing a two-game sweep and advancing to the East Division Final. George Haigley grabbed the other Mass goal, while Kyle Madigan led Springfield with a pair of goals, joining Kolby Donovan on that side of the scoresheet. Ethan Kavanaugh stopped 32 pucks to earn the win, outpacing Trey Hirschfield's 18 saves for Springfield.
Frontier Division Semi-Finals, Game 3: Gillette 0 @ Great Falls 2 (Great Falls wins series, 2-1) - Trever Mellen was unbeatable in the Great Falls crease Saturday night, putting up a whopping 45-save shutout in a 2-0 win over the Wild in Game 3 of their first-round series. Micah Serino and Henry Chavez were the only players to light the lamp in this one, putting the Americans on the board in the second and third periods, respectively. Cole Wheaton stopped 39 of 40 shots for Gillette, but the Wild attack couldn't find a way past a stingy Mellen in this one.
South Division Semi-Finals, Game 2: Texas 7 vs. Atlanta 0 (Texas wins series, 2-0) - Matej Palfy scored twice, Dolan Gilbert posted a 30-save shutout and the Brahmas cruised past the Capitals for a 7-0 win to finish off their first-round sweep. Padraig McEnery, Blake Rothstein, Tyler Blanchard, Jacob Kalandyk and RJ Muckensturm rounded out Texas' scoring, as the Brahmas forced Atlanta goaltenders Matthew Genter and Joe Pearson into 34 combined saves.
Central Division Semi-Finals, Game 2: Oregon 2 @ Rochester 5 (Rochester wins series, 2-0) - Down by a pair early in the contest, the Grizzlies rattled off five unanswered goals to take a 5-2 win and series victory over the Tradesmen on Saturday. Devin Hays and Jacob Best had Oregon rolling through the first eight minutes, but Rochester responded with goals from Hunter Wilmes, Peyton Hart, Justin Wright, Cole Gibson and an empty-netter from Teppei Ueno to salt things away. Shane Soderwall stopped 26 of 28 to earn the win, while Cole Garver turned aside 47 pucks for Oregon.
South Division Semi-Finals, Game 2: El Paso 2 @ Oklahoma City 7 (Oklahoma City wins series, 2-0) - After steamrolling their rival Rhinos on Friday, the Blazers were again at their high-scoring best on Saturday as they breezed past El Paso 7-2 to move on to the South Division Final against the Brahmas. Goals from Tynan Peacock, Noah Henslee, Artem Korolev, Samuel Miller, Noah Roitman, Gabe Shipper and Brady Snedden fueled the Oklahoma City onslaught, while Easton Easterson and Preston Hazleton lit the lamp for the Rhinos. Olivier Charbonneau turned aside 22 of 24 shots to notch the win between the pipes for Oklahoma City, while Ryan Nocerino stopped 23 pucks in the El Paso loss.
East Division Semi-Finals, Game 2: Northeast 4 @ New England 0 (Series tied, 1-1) - The Generals, led by two goals from defenseman Deacon More, bounced back from a Game 1 loss to hammer the Sharks 4-0, forcing a Game 3 on Sunday. Ben Pizzimenti and Braeden Kennedy also scored for the Generals, who were backstopped by an 18-save shutout from Patrick Colburn. Sharks goaltender Artem Lantukh was remarkable once again despite the loss, stopping an eye-popping 77 of 81 shots against in Game 2.
West Division Semi-Finals, Game 2: North Iowa 5 @ Alexandria 1 (Series tied, 1-1) - The Bulls bounced back from a disappointing Game 1 showing with a 5-1 blitz of the Blizzard on Saturday to force a Game 3. Garrett Freeman, Max Savaloja, Nick Mohs-Messerli, Carter Newpower and Caleb Huffman fueled a resurgent Bulls side, while Dallas Duckson put Alexandria on the board. Carsen Stokes' 27 saves were good enough to win, outmatching a combined 33 saves from Atticus Kelly and Bailey Rosch between the Blizzard pipes.