Bulls win Game 3 to advance to West Finals
April 5, 2021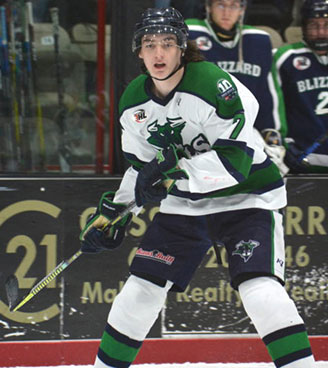 West Division Semi-Finals, Game 3: North Iowa 3 vs. Alexandria 1 (North Iowa wins series, 2-1) – The North Iowa Bulls earned a 3-1 victory on Easter Sunday, moving on to their ninth straight division championship series.
Jac Triemert starred for the Bulls, posting his best game in a North Iowa uniform with two goals and an assist.
Triemert pounced on an innocent clearing attempt into the Blizzard zone just 5:37 into the game, snatching up a bounce off the end boards and stuffing it past Atticus Kelly for a 1-0 lead.
However, the Blizzard grabbed the momentum just 2:04 out of the intermission, when Nikolai Rajala cruised into the North Iowa zone and found Caleb Strong on the backdoor for a one-timer to tie the game at 1-1.
Triemert helped to set up the eventual game-winner just over five minutes later, when Garrett Freeman drove the puck down the right-wing boards and fed it to Max Savaloja in front of the net. Savaloja deked the puck to his forehand side and tapped in the go-ahead goal at 7:12 of the second period, giving the Bulls a 2-1 advantage.
The North Iowa lead settled at two goals with just 1:38 remaining, when Triemert swept in behind the cage, turned at the left-wing faceoff circle and whipped one toward the top of the Blizzard net. That shot also beat Kelly, putting the Bulls up by a 3-1 count nearing the end of the second period.
Alexandria posted a small advantage in the shot count in the third period, but both teams came up empty on the power play, and neither team scored again, giving the Bulls the two-games-to-one victory and sending them once again to the division finals.
Carsen Stokes was solid in net again for the Bulls, turning aside 24 Blizzard shots to close out the series with a scorching .948 save percentage and a paltry 1.32 goals-against average. Kelly saw his junior career close with a 40-save performance, taking all three of Alexandria's decisions in the West Division Semifinals.
North Iowa advances to the West Finals to face the Willmar WarHawks with a trip to the Fraser Cup on the line.