Game 3 win sends Generals into East Finals
April 6, 2021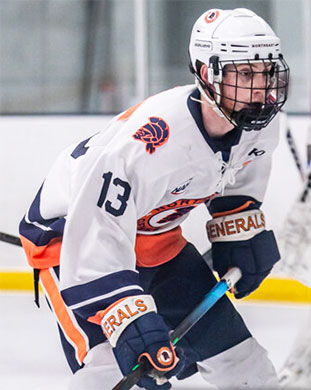 East Division Semi-Finals, Game 3: Sharks 3 @ Generals 7 (Generals win series, 2-1) – Nicklaus Obourn scored twice and Jacob Kaminski and Dylan Dent each had a goal and two assists as the Generals used a strong start to win the decisive third game in their Semi-Final series against the Sharks.
It was all Generals from the opening face-off as they used a four-goal 1st period to separate themselves quickly from the Sharks. Dent opening the scoring less than five minutes into the game. Less than three minutes later, Obourn scored the first of his two goals. Later in the period Tyler Kaminski added a goal to make it 3-0 and then Obourn scored again to make it 4-0.
In the 2nd period, the Generals increased the lead to 6-0 as Jason Gratz and Jacob Kaminski scored. The Sharks got on the board later in the period as Matthew Anastasio scored his 5th goal of the playoffs to make it 6-1 after two periods.
The Sharks made it 6-2 early in the 3rd period on a goal from Aleksandr Gamzatov, but a goal from Nick Wracker less than five minutes later would make it 7-2. Anastasio would add his second of the game later in the 3rd period to complete the scoring.
Generals goalie Patrick Colburn made 13 saves in the win, while Greyson Skirpan made 55 saves in the loss.
The Generals will now face the Titans in East Division Finals.