Mustangs take Game 1 of Central Finals in OT
April 8, 2021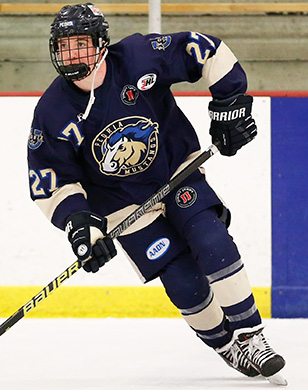 Central Division Finals, Game 1: Peoria 2 vs. Rochester 1 (OT) – Tony Campise scored just 2:16 into overtime to give the Mustangs a 2-1 win in Game 1 of the Central Division Finals over the Rochester Grizzlies.
After a scoreless 1st period, the Grizzlies were first on the board as Peyton Hart poked home a loose rebound for his 4th goal of the playoffs to make it 1-0. The Mustangs responded late in the period as Quinton Muprhy scored his first goal of the playoff as he came in the zone on a 1-on-1 and snapped a shot through the defense that eluded Grizzlies goaltender Shane Soderwall to knot the game at 2-2.
After a scoreless 3rd period, it did not take the Mustangs long in the overtime to win the game and take control of the series as they won an offensive zone face-off, which went down towards the goal line. Mustangs forward Tony Campise won the battle to the puck and got off a backhand shot, which eluded Soderwall to the short side for the game-winning goal and series lead.
Mustangs goalie Cole Walter made 16 saves in the win, while Soderwall made 28 saves in the loss.