Hawks open Frontier Finals with 4-1 win
April 9, 2021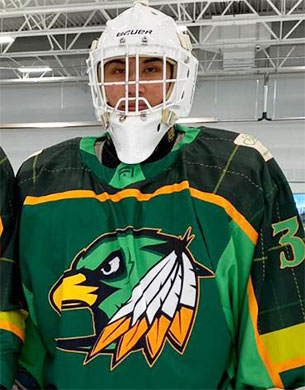 Frontier Division Finals, Game 1: Sheridan 4 @ Great Falls 1 (Sheridan leads series, 1-0) – Hawks goalie Christian Wong-Ramos made 30 saves to lead his team to a 4-1 win in the opening game of the Frontier Division Finals. The series now heads back to Sheridan where the Hawks will play Game 2 and if necessary, Game 3.
The Hawks got on the board midway through the 1st period thanks to a goal from Simon Herz.
The lead swelled to 3-0 in the 2nd period as Nick Wieben and Nathan Gilleshammer scored for the Hawks. The Americans struck for their lone goal of the game late in the period as Micah Serino scored on the power play to make it 3-1.
Late in the 3rd period, the Hawks secured the win thanks to an empty-net goal from Gilleshammer, which was his second goal of the game.
Americans goalie Trever Mellen made 29 saves in the loss.