Sheridan, Rochester win on Day 1 of Fraser Cup
April 16, 2021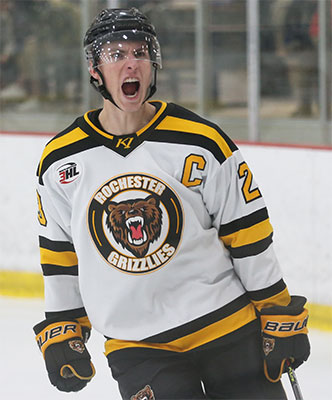 It was an exciting Day 1 of the 2021 NA3HL Fraser Cup at the St Peters Rec Plex. The Sheridan Hawks and Rochester Grizzlies, who were the top two seeds coming into the event, both picked up wins on Day 1.
Day 2 is on Friday and both Sheridan and Rochester are in action for the second straight day. A win on Day 2 for Sheridan and Rochester would clinch the top spot in the pools and a berth in the Semi-Finals.
The top two teams in each pool advance to the Semi-Finals, where they will then cross over to play the other top two teams from the other pool. The winners of the Semi-Finals will advance to the Fraser Cup Championship Game. The six teams that advance to the Fraser Cup Championship Tournament will be seeded 1-6 based on their regular season winning percentage.
Games can be seen live and in HD on HockeyTV
For more information about the Fraser Cup, please visit: http://na3hl.com/fraser-cup/
Day 1 recaps
Fraser Cup Round-Robin, Pool A: Sheridan 13 vs. Northeast 2 – The NA3HL's regular season Champion Sheridan Hawks flexed their offensive muscles in the opening game of the 2021 Fraser Cup as they unloaded for 13 goals in a 13-2 win over the Northeast Generals. Five different players including Brice French, Mason Wistrcill, Justin Schwartzmiller, Jacob Cummings, and Zach Brydges had two goals apiece in the win and Nick Wieben had five points. Things started good for the Generals as Dylan Dent scored just over a minute into the game. After that it was all Generals as they scored four goals later in the 1st period to take a 4-1 lead to the lockerroom as Tony Brings, Frech, Wistrcill, and Schwartzmiller all scored. Sheridan put the game away in the 2nd period as they scored six more times to take a 10-1 lead as Wieben, Wistrcill, Brydges, Cummings, French, and Luke Desmarais all scored. Brydges, Schwartzmiller, and Cummings all scored in the 3rd period for Sheridan. Tyler Kaminski had the other goal for the Generals. Christian Wong-Ramos made 44 saves in the win, while Patrick Colburn made 28 saves in the loss.
Fraser Cup Round-Robin, Pool B: Rochester 4 vs. TX Brahmas 3 – Peyton Hart had a goal and two assists for the Rochester Grizzlies in an opening round-robin win over the Texas Brahmas. Just like in Game 1 earlier in the afternoon, the scoring started early in Game two as the Brahmas took a 1-0 lead just :18 seconds into the contest as Tyler Blanchard hammered home a rebound. Just over a minute later, the Grizzlies would respond as Hart snapped home a shot from the face-off dot to make it 1-1. In the 2nd period, the Grizzlies seized control as they scored twice, which included goals from Hunter Wilmes and Garrett Smith. The lead swelled to 4-1 early in the 3rd period as Matt DeRosa got a nice pass from behind the net from Hart to score his first goal of the game. The Brahmas didn't quit however as Micah Moldonado scored on a rush just :28 seconds