9th annual NAHL Showcase shatters attendance and scouting records
September 22, 2011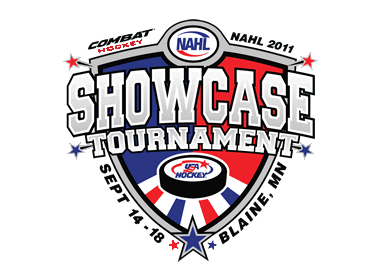 By Alex Kyrias, NAHL
The North American Hockey League (NAHL) is still riding high off the recent completion of the ninth annual NAHL Showcase Tournament, presented by Combat Hockey, held at the Schwan Super Rink in Blaine, Minnesota, September 14-18. This year's event did not disappoint, as it not only set new standards and records for attendance by fans, but also a record number of scouts who attended the five-day event that is considered one of the greatest hockey festivals of its kind, which showcases thousands of North America's best young hockey prospects.
"This year's Showcase set a new standard for excellence thanks to the teams and players involved from all four leagues that competed," said NAHL Commissioner Mark Frankenfeld. "The event raised the bar again and set new heights of exposure for our student-athletes. It represents one of the few 'can't miss' events for scouts at every level of hockey and the fact that we are truly the leagues of opportunity."
All 28 NAHL teams played four regular-season games at the tournament, which was highlighted by three teams (Janesville Jets, Fresno Monsters and Fairbanks Ice Dogs) posting a perfect 4-0 record, with Janesville taking home the NAHL Showcase title thanks to the best goal differential.
The week also included the first event of the season for the North American Prospects Hockey League (PHL), in which 46 Midget Major (18U), Midget Minor (16U) and Bantam Major (14U) teams competed at the Tier I level. The event also featured two new leagues with the addition of half the teams from the Tier III junior North American 3 Hockey League (3HL) and eight teams from the Upper Midwest High School Elite League. In total, 90 teams were in action over the five-day mega-event.
Perhaps the most telling number from the event was that a record 250+ scouts from the NHL, NCAA and junior ranks attended the Showcase during the five days, shattering the previous high number. Close to 40 NHL scouts attended, which included members of NHL Central Scouting, a department within the National Hockey League that ranks prospects for the NHL Entry Draft.
Jack Barzee, who works for Central Scouting, primarily focusing on United States junior and high school prospects, was at the event and says that the NAHL Showcase accomplishes everything that Central Scouting is looking for. "The NAHL Showcase is a great event because of its size, magnitude and time of year it's played. It really gives us a first look at players on a grand scale," said Barzee. "There are a lot of eyes on these players and sometimes there are two to three scouts from one team watching the same player. It is an incredible event that is well-organized and helps us to our job to put together an initial watch list of NHL prospects."
The largest representation of scouts however, came from the NCAA. Over 130 NCAA scouts were in attendance during the five-day event. One of those scouts was Joe Bonnett, an assistant coach with Colorado College of the Western Collegiate Hockey Association (WCHA). "The NAHL has done an unbelievable job at streamlining what a Showcase should be. When you talk to college coaches across the country and do comparisons, there is no other event like this. It is really 'one-stop shopping' in regards to scouting talent. It is an incredible way to start the recruiting season because you get a look at all the players in the NAHL, 3HL, PHL and Elite League," said Bonnett.
Gary Harker, a scout for the NHL's Toronto Maple Leafs explained that although the Showcase is large in scale, finding players that catch their attention is something that happens quite often. "What will happen is you will be watching a game and all of a sudden we will hear about a certain player that is a 'must-see' playing in another one of the eight rinks and then word spreads like wildfire. Before you know it dozens of scouts have descended on one rink to watch this kid play. That's how it happens all day for five days no matter what league you are talking about," said Harker. "The NAHL has done a heck of a job in developing an event that can be held right up there as one of the best we go to all year. Everything is first class, well-organized and lets us do our job as scouts."
Another NCAA Division I coach and scout in attendance was Barry Schutte, an assistant coach at Bowling Green State University of the Central Collegiate Hockey Association (CCHA). "It helps us as an NCAA program because there are rules and restrictions on how many events we can attend and who can attend them, so being able to see this many teams and players in one event and venue, is really one of the great benefits of the NAHL Showcase," said Schutte. "The NAHL Showcase covers every aspect and age group that we as an NCAA program are interested in. It doesn't matter what your need is, it is here, and I can't imagine another event that meets the needs of so many than this one."
One of the scouts who understands first-hand how big the NAHL Showcase has become is Michigan Tech assistant coach Bill Muckalt. At this time last year, Muckalt was behind the bench as the head coach for the New Mexico Mustangs, but this season he returned as a scout, searching for players that may be a good fit for the NCAA Division I Huskies team. "The Showcase provides us a nice variety of prospects to look at. We may have a need for an older 19-20 year old junior player in the short term, but long term we may identify some of the younger players who could fit in down the road," said Muckalt. As for the talent in the NAHL, Muckalt believes it is even better this season than last season, thanks in large part to a group of younger players who in his mind may possess NHL talent. "Not only is the league younger this year and playing at a higher caliber, but I truly believe you are seeing some NAHL players at this event that will be playing in the NHL in the future," said Muckalt.
The tournament doesn't come close to reaching its prestige without the Super Rink, the largest facility of its kind in the world. From its eight sheets of ice to its accommodating and experienced staff, no other building matches what the Schwan Super Rink delivers. "One of the reasons that this event is possible is not only because of the facility, but the people who run it," said Frankenfeld. "They accommodate thousands of fans and players in a very short time frame and do a great job."
"The Showcase is now an annual event that not only has become a wonderful tradition for the NAHL and the Schwan Super Rink, but it also great for the City of Blaine," Super Rink ice arena operations and program director Pete Carlson said. "It is a pleasure to work with the NAHL staff each season and we enjoy the professionalism all the leagues bring to the event."