North Iowa Bulls win 2021 Fraser Cup Championship
April 19, 2021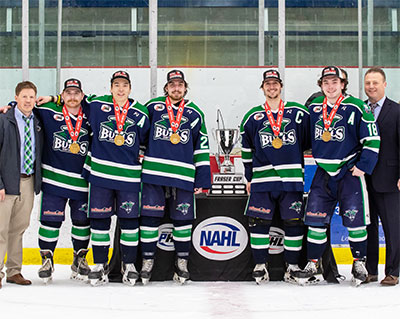 Fraser Cup Championship Game: North Iowa 5 vs. Rochester 1 - North Iowa Bulls goalie Carsen Stokes made 31 saves to earn Most Valuable Player honors and lead his team to the 2021 NA3HL Fraser Cup National Championship thanks to a 5-1 win over the Rochester Grizzlies on Monday at the St. Peters Rec Plex.
The 1st period was about as even as it could get, with each team getting a goal and each team getting the outstanding goaltending that has got them to this point. The Grizzlies took the early momentum and got on the board first as a shot from Matthew DeRosa was saved by Bulls goalie Carsen Stokes, but the rebound came right to the stick of Cole Gibson, who smashed it into the back of the net for a 1-0 lead. Five minutes later, it was a face-off win for the Bulls that got the puck to the point for Gavin Wendorf, who took a shot that was redirected by Jac Triemert past Shane Soderwall to knot the game at 1-1.
The Bulls broke the game open in the 2nd period with three goals to take a commanding 4-1 lead. The Bulls grabbed the momentum early in the 2nd period as they grabbed their first lead of the game thanks to a goal with a shot from the point from Gavin Wendorf that beat Soderwall to make it 2-1. Later in the period, it was Bulls forward Garrett Freeman scoring his first goal of the event as a shot from the point pinballed in front and Freeman scooped it up to put it past Soderwall for a 3-1 lead. Late in the period, the Bulls increased the lead to 4-1 as Max Savaloja threw a pass in front that was saved by Soderwall, but the rebound came right to Lucas Jorgenson who deposited the puck upstairs for a 4-1 lead after two periods.
The Bulls locked things down in the 3rd period, allowing just eight shots on goal, but Stokes made several big saves to keep the Grizzlies at bay. With just under two minutes remaining in the game, Carter Newpower scored on the empty-net goal to secure the 5-1 win and Championship.
Including the 31 saves in the Championship Game, Stokes stopped 115 of 119 total shots in the Fraser Cup Championship to earn MVP honors. Grizzlies goalie Shane Soderwall made 32 saves in the losing effort.
NA3HL Fraser Cup All-Tournament Team
Forward: Matthew DeRosa, Rochester Grizzlies
Forward: Joey Fodstad, Rochester Grizzlies
Forward: Carson Jones, North Iowa Bulls
Forward: Carter Newpower, North Iowa Bulls
Defense: Blake Arneson, Rochester Grizzlies
Defense: Gavin Wendorf, North Iowa Bulls
Goaltender: Carsen Stokes, North Iowa Bulls
Most Valuable Player: Carsen Stokes, North Iowa Bulls