NA3HL Top Prospects a success in St. Peters
April 21, 2021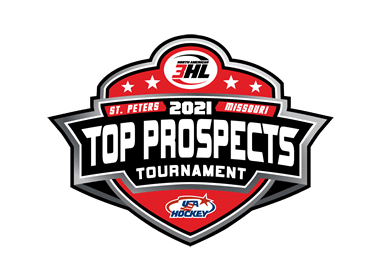 Day 2 of the 2021 NA3HL Top Prospects Tournament did not disappoint with two more close, competitive and enjoyable games. The event featured dozens of scouts in attendance from NCAA and ACHA schools in addition to NAHL scouts.
Day 2 of the event on Monday was the precursor to the Fraser Cup Championship game action later in the day, which saw the North Iowa Bulls capture the title.
Day 2 recaps
Team Apex 3 vs. Team Krampade 4 (SO) - Team Krampade needed a third-period comeback and a shootout to get it done, but picked up a 4-3 win over Team Apex after Dallas Duckson (Alexandria Blizzard) ripped home the shootout winner with a slapshot from the high slot.
The two teams traded goals in the first period, with Bay State's Gordon Ogden lighting the lamp for Team Apex and St. Louis' Vinny Servizzi finding twine for Team Krampade.
Alex Kupka (Willmar Warhawks) netted the lone goal of period two, putting Team Apex ahead by one through 40 minutes, before Kieran Christianson (Missoula Jr. Bruins) doubled Team Apex's lead just over five minutes into the third.
Not to be denied however, Team Krampade responded with two goals in two minutes from Joey Gimberlin (New Ulm Steel) and Michael Fatta (Mid Cities Jr. Stars), forcing overtime.
Duckson's goal marked the deciding tally in a lengthy breakaway bout, with both teams' netminders standing tall. Andrew Doran (Peoria Mustangs) and Owen Carlson (St. Louis Jr. Blues) provided 14 saves on 15 shots and eight saves aon 10 shots, respectively, to fuel Team Krampade's win, while Nathan Hadley (Danbury Jr. Hat Tricks) recorded nine saves on 10 shots and Will Pinney (Willmar Warhawks) stopped 27 of 30 in the loss for Team Apex.
Team Bauer 9 vs. Team K1 6 - Buoyed by a five-goal third period, Team Bauer outlasted Team K1 9-6 in a high-scoring affair to close out the 2021 Top Prospects Tournament.
Brett Bell (New Jersey Titans), Austin Lawless (Yellowstone Quake) and Nicholas Cyprian (Atlanta Capitals) each scored in the first period for Team Bauer, giving their team a 3-0 lead and appearing to take a stranglehold on the game.
The second period was a different story, though, as a trio of Texas RoadRunners standouts in Derek Boutin, Tim Marsico and Jaron Ketterman, as well as Gunnar Schiffmann (Oregon Tradesmen), helped Team K1 light up the scoreboard with four goals in the second. Dylan Rumpke (Yellowstone Quake) chipped in another Team Bauer tally to send the game into the third period tied at four goals apiece.
Team Bauer took over in the final frame with an early goal from Mi-Kwan Tallman (Missoula Jr. Bruins) and another from Rumpke, then responded to Tristin Maestas' (El Paso Rhinos) goal for Team K1 with a strike of their own from Eddie Slack (Atlanta Capitals). Tristan Baker (Gillette Wild) made things interesting with a goal for Team K1 just a minute later, but Mason Ausmus (Milwaukee Power) and Cole Schneider (El Paso Rhinos) capped the game off in style with a pair of sterling solo efforts to give Team Bauer the 9-6 win.
In net, the combination of Trever Mellen (Great Falls Americans) and Anthony Adleman (Helena Bighorns) totaled 41 saves on 47 shots for Team Bauer, while Cole Garver (Oregon Tradesmen) and Bailey Huber (Granite City Lumberjacks) posted a combined 46 saves on 55 shots for Team K1.