NA3HL announces new team in Austin, Texas
April 27, 2021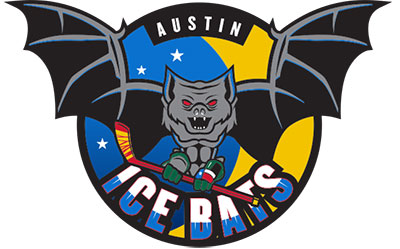 The North American 3 Hockey League (NA3HL) has announced that it has approved the membership of the Austin Ice Bats. The Austin Ice Bats are located in Austin, Texas and will begin play in the NA3HL's South Division beginning in the 2021-22 season. The team will play out of Chaparral Ice at The Crossover in Cedar Park, which is north of downtown Austin.
"We are excited to continue our growth in the South Division with the addition of the Austin Ice Bats. This will be the first junior hockey team of its kind in the Austin area and with the already established teams and growth of the NA3HL's South Division, this is an exciting addition to the footprint. The fans will enjoy some of the great rivalries with other teams in the state and region," said NA3HL Commissioner Blake MacNicol.
The NA3HL's Austin Ice Bats are owned by TMSD, LLC, led by principal owner Ryan Raya, who also owns Chaparral Ice. A former goaltender, Raya bought Chaparral Ice in 2017 with the goal of creating a place where everyone – hockey players, figure skaters, curlers or just Austinites looking for somewhere to beat the Texas heat – can share in the same experiences that sparked his passion for the ice.
"Bringing the Ice Bats back to Austin is something me and my partners thought would really bring excitement to people inside and outside of the hockey community. They were part of the DNA here for many years and now will fill a hole in our youth hockey developmental pyramid that can help bridge the gap for local kids to perhaps play for any of the NAHL teams that are an easy drive from Cedar Park and Austin, without ever having to leave home," said Raya.
The Austin Ice Bats were previously a professional minor league hockey team that skated for twelve seasons in Texas' capital city. The Ice Bats derived their name from the famed colony of 3.5 million of free-tailed bats that live under Austin's Congress Avenue bridge. The club was one of six original franchises in the Western Professional Hockey League (WPHL) in 1996. They would later play in the Central Hockey League (CHL) after it merged and absorbed the WPHL in 2001.
Chaparral Ice is the rink of choice for a variety of athletic groups, including the Ice Bats, and has been a fixture in the Austin community for over 20 years. The most high-profile local teams are the professional American Hockey League's Texas Stars and the ACHA Division II University of Texas Longhorns, both of whom practice at the facility. Chaparral Ice also hosts a variety of amateur teams including the Austin Metro Hockey Association and Chaparral Ice adult recreational leagues.
Any team inquiries can be directed to Ryan Raya via email