North Iowa forward Heffron makes NCAA commitment
April 28, 2021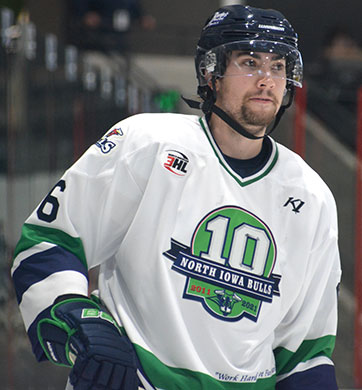 The North Iowa Bulls, proud members of the North American 3 Hockey League (NA3HL), are excited to announce that forward Kyle Heffron has committed to Gustavus Adolphus College, an NCAA Division III institution and member of the Minnesota Intercollegiate Athletic Conference (MIAC). He becomes the team's fourth player this season to announce an NCAA Division III commitment, all with MIAC schools.
Heffron's move to St. Peter, Minnesota seems especially apt at this moment in time, after helping the Bulls earn an NA3HL Fraser Cup title, the fourth national championship in team history, in St. Peters, Missouri just last week. The Rosemount, Minnesota native made his junior debut with the Bulls on November 6, stuffing the stat sheet with a goal and three assists in his first junior game against the Willmar WarHawks.
Known around the locker room as "Moose," Heffron roared through his first season of junior hockey, notching points in 17 of his 26 games, including 12 of his first 14. He would finish the season with a point-per-game average, posting eight goals and 18 assists for the year, and adding one assist over his four appearances in the postseason.
"'Moose' is a phenomenal distributor of the puck, and when he shoots it, it's heavy," said Bulls head coach and general manager Todd Sanden. "Going to the college game, he's going to probably have to play a bit quicker, but he has the skill set to be offensively productive at that level."
Heffron was a longtime high school standout prior to joining the Bulls, posting more than 100 points over a three-year varsity career at Rosemount High School and Totino-Grace High School. He would also log time in the North American Prospects Hockey League as a member of the Minnesota Blizzard 18U program.
He becomes the second North Iowa player this season to log a commitment to Gustavus Adolphus, following Jac Triemert's commitment to the Golden Gusties in early March, and the fifth Bull all-time to head to Gustavus.
"It'll be nice knowing some people that played with the Bulls, that I get to be on a team with every day," said Heffron. "Their hockey program is really good, their arena is super-nice, the campus is awesome, and the coaching staff is great."
More than 150 North Iowa players have committed to NCAA and ACHA programs during the team's 10 years on the ice, including nine alumni who have gone on to NCAA Division I rosters. Nearly 50 NA3HL players have committed to college programs this season alone.
"Gustavus is getting a great student on their campus, and a great person for their hockey program," said Sanden. "We can't wish 'Moose' enough luck there in his time at Gustavus and thank him for his time here, being a dedicated Bull his entire time here."
Click here for an NA3HL college commitment list