NAHL announces Combat Hockey 3 Stars of the Week
September 27, 2011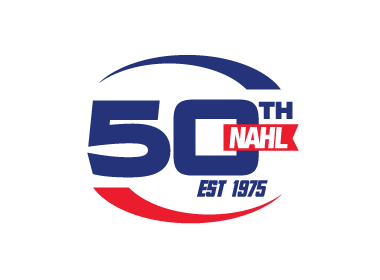 The North American Hockey League (NAHL) today announced the Three Stars of the Week presented by Combat Hockey for the week ending September 25, 2011. The Three Stars of the Week is a weekly feature during the 2011-12 regular season that honors the top performing players each week of the regular season as nominated by their respective teams.
1st Star: Shane Omdahl, forward, Bismarck Bobcats
Omdahl, 18, had a seven-point weekend as the Bismarck Bobcats won both their home games this past weekend. On Friday, the forward from Roseau, Minnesota, assisted on all three goals in the Bobcats 3-1 win over rival Aberdeen. The next night, Omdahl had a goal and three more assists in a convincing 9-3 win over the Alexandria Blizzard. Omdahl, who measures in at 5'11, 190 lbs. also was a +5 on the weekend, registering seven shots on goal. "Shane has been a bright spot for us since Day 1 and has played great for a rookie," said Bismarck head coach Layne Sedevie. "He has excelled in all game situations and was a big reason behind our success last weekend." For the season, Omdahl leads the Bobcats and the Central Division in scoring with 10 points (3g, 7a) in six games, guiding the Bobcats to a 4-2-0 record. He celebrates his 19th birthday on Tuesday, September 27th.
2nd Star: Spencer Viele, goaltender, St. Louis Bandits
Viele, 19, posted two wins in the Bandits weekend home sweep of the Topeka RoadRunners. On Friday, the 5'10, 175 lbs. goaltender stopped 23 of 26 Roadrunner shots in a 5-3 win. The next night, Viele put out his best performance of the year with a 39-save shutout of the RoadRunners. For the weekend, the Wildwood, Missouri native posted a 1.51 goals against average and a 95.4% save percentage, as he helped keep the Bandits atop of the Midwest Division standings. "He single-handedly won Saturdays' game for us," said St. Louis head coach Jeff Brown. "We were outplayed and had no business winning the game, but Spencer was unbelievable and really played well and played with confidence." Viele has won all five of his starts this season, posting a perfect 5-0-0 record with a 2.01 goals against average and a 93.1% save percentage.
3rd Star: Robert Nichols, goaltender, Wenatchee Wild
Although he only appeared in one game, Nichols, 19, stood tall in goal for the Wenatchee Wild as they shutout the Alaska Avalanche on Saturday night by a score of 3-0. As the game went on, Nichols got better including making 14 saves in the 2nd period and 11 saves in the 3rd period. "We really feel like Robert was one of the best goaltenders in Tier I midget hockey last season," said head coach John Becanic. "We are confident Robert can translate that into being one of the top goaltenders in the league this season." For his efforts on Saturday night, Nichols (5'11, 180 lbs.) was named the game's first star. He currently leads the NAHL in goaltending, leading the league in both goals against average (0.33) and save percentage (98.8%).
Other players nominated were (alphabetical): Ben Bahe, forward, Topeka RoadRunners – Connor Hellebuyck, goaltender, Odessa Jackalopes – Tony Kujava, goaltender, Janesville Jets – Gabe Levin, forward, Fairbanks Ice Dogs – Jacob McDowell, forward, Kalamazoo Jr. K-Wings – Alex Okicki, goaltender, Kalamazoo Jr. K-Wings – Shawn Pauly, forward, Wenatchee Wild – Eric Purcell, forward, Corpus Christi IceRays – Tyler Richter, forward, Bismarck Bobcats.