August 20, 2021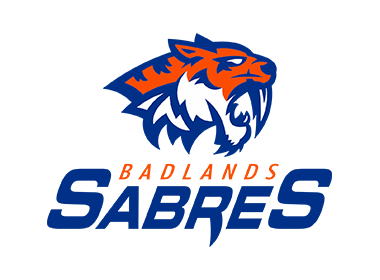 The 3View series will feature an in-depth look into all NA3HL teams in preparation for the 2021-22 season, with two teams being highlighted daily, leading all the way up until the start of the regular season. 3View goes in-depth into each NA3HL team and will include interviews with all the head coaches in the NA3HL, as they provide fans with their expectations and outlook for the 2021-22 season, including taking a look at their potential roster and their strengths as a team for the upcoming season. It will also take a look back on the 2020-21 season and how each team fared and what they accomplished. Best of all, 3View will provide the fans of the NA3HL with an inside look at their favorite team and what to expect.
Badlands Sabres
2020-21 Record: 40 GP, 21-27-2 (44 points, 4th in the Frontier Division) *as Missoula
2021 Playoffs: Lost to the Sheridan Hawks in the Division Semi-Finals, 2-0 *as Missoula
Head Coach: Brendon Hodge
2021-22 Division: Frontier
The Badlands Sabres will join the Austin Ice Bats in making their NA3HL debut during the 2021-22 season, having relocated the Missoula Jr. Bruins to Rapid City, SD.
Badlands will look to catch some lightning in a bottle in year one, as they join a division which has crowned a different champion in each of the last four seasons.
Head Coach Brendon Hodge understands the challenge that lies ahead, but expects a consistent effort from his team night in and night out.
"Our team is going to compete every night. Whether we are winning or losing, our players will compete until the buzzer sounds. We are looking to play a fast-paced, up-tempo game. So far, we have a good balance of young players and players that already have Junior hockey experience," he said.
The Sabres will look markedly different from Missoula in many ways, but a familiar face between the pipes gives Hodge and his staff a foundation on which to build out the roster.
"Max Currie is one of the players that we are really looking forward to seeing play this season. He is coming off a strong campaign from Missoula as he backstopped them to a playoff appearance. We are excited to see him take the next step in his career," said Hodge.
Currie posted a .916 save percentage in 29 games with the Jr. Bruins last season and earned multiple honorable mentions for Frontier Division Star of the Week.
Watch: Badlands Sabres season preview
As for the rest of the squad, Hodge says a player's work ethic and integrity will be weighed just as heavily as on-ice talent when determining the final roster spots.
"We are looking for good character players. Our players are going to compete every day in practice and hopefully that will translate to the games. Our players will be making frequent appearances throughout Rapid City so we can help these players learn about the off-ice side of the game," he said.
As with every NA3HL team, on-ice success means little without strong player development and advancement. Hodge hopes to see this year's Sabres become tomorrow's stars of the NAHL and NCAA.
"As an organization we think that player advancement is the most important part of our league. We want to make sure that we are offering our players every avenue possible for them to advance to higher levels of hockey. Being a part of the NAHL family is a great opportunity for our players to reach their goals but our players also know they need to earn everything — nothing is given," he said.
Playing in a professional market also offers unique opportunities for Sabres players to see what it takes to not only play in the NCAA, but pro hockey as well. Regardless of a player's ambitions, the lessons learned from someone who has climbed the ladder to the top are invaluable.
"As a coach and as an organization our goals are to provide our players with every opportunity to develop their games on and off the ice to become successful. With our partnership with the ECHL's Rapid City Rush we believe that we have all the tools to have a very successful first season in the NA3HL. We have a great relationship with them where our players will be able to see the behind the scenes of what professional hockey players go through to prepare themselves for the season," said Hodge.
Next up: Bay State Bobcats