August 21, 2021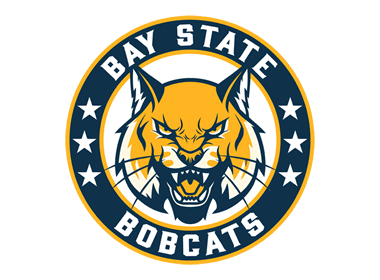 The 3View series will feature an in-depth look into all NA3HL teams in preparation for the 2021-22 season, with two teams being highlighted daily, leading all the way up until the start of the regular season. 3View goes in-depth into each NA3HL team and will include interviews with all the head coaches in the NA3HL, as they provide fans with their expectations and outlook for the 2021-22 season, including taking a look at their potential roster and their strengths as a team for the upcoming season. It will also take a look back on the 2020-21 season and how each team fared and what they accomplished. Best of all, 3View will provide the fans of the NA3HL with an inside look at their favorite team and what to expect.
Bay State Bobcats
2020-21 Record: 13-25-0, 26pts (4th in East Division)
2021 Playoffs: Lost in Division Semi-Finals
Head Coach: Anthony Langevin
2021-22 Division: East
After two relocations in as many years, the Bay State Bobcats established themselves in Holyoke, MA ahead of last season.
Statistically, it was an up-and-down season for the Bobcats, but given the circumstances of the 2020-21 season, Head Coach Anthony Langevin knows there are plenty of positives to pull from last year.
"As a team, I was very happy we were able to get in a full season throughout what was our toughest year as a franchise, yet. From recruiting during the off-season to daily practices, we ran into many hiccups throughout the year in regards to COVID-19 in our first season in relocating to Western Massachusetts. But our players were able to persevere through many obstacles to get a full season in," he said.
Now with a year in Massachusetts under their belt, Langevin and his staff are looking forward to truly building the Bay State brand in the Northeast. With new facilities and the potential for a boost from fans in attendance, there is plenty of reason for excitement around the club.
Watch: Bay State Bobcats season preview
"Moving forward, this will also be our second season in Massachusetts and we have a great head start to what should be an awesome season — from finally welcoming large crowds of fans to our games, to even using our new locker room and new team hang-out room we have put together for our players," said Langevin.
On the ice, the Bobcats have a history of success — playing as the Binghamton Jr. Senators, they enjoyed a run of three consecutive Fraser Cup Championship appearances. And after a step back in 2020-21, Bay State is poised to return to form with talent at every position.
"We are excited about our depth we are going to have in the lineup this season from the back end to the front end," said Langevin, "We are looking for returners Landon Boothe and Damon Warren to make an impact right away on the scoresheet and in the locker room as it will be their second season in the Navy and Gold. But we have a lot of new faces coming in who we will look upon right away on the ice, including: Will Cormie, Isaiah Walter, Vinnie Anderson and many others."
If those standouts continue to evolve and improve their game to have the impact that their coach believes they can, it won't be long before NAHL and NCAA teams come calling — and that's exactly what Langevin wants to see.
"Our most important goal is improving each player and each goaltender we have who wear the Navy and Gold this season. From our workouts to our team and individual practice sessions, we want each of our players and goaltenders to improve to get ready for their next levels in their hockey careers — whether that's our older players moving onto college hockey or our younger guys potentially getting opportunities in the North American Hockey League," he said.
Bay State moved three players from last year's squad to the NCAA this year, and one more earned an NAHL tender. That kind of progression shows the strength of the Bobcats' organization, and provides just as much pride for the coaching staff as on-ice success.
"Player development is always our main goal, but a close number two is player advancement," said Langevin, "If it's moving players onto College Hockey or the North American Hockey League, moving our players on is what we want to do in the long run. We take advantage of the many great initiatives the North American Hockey League and the North American 3 Hockey League have put together for teams, including the NAHL Practice and Play Plan where players have the opportunity to skate with NAHL teams throughout the season. (It is) a tremendous opportunity for not only our players, but all players throughout the league."
The Bobcats have seen a lot in the last three years — new cities, new arenas, and some sizable shifts in game-day routines last season. Looking ahead, the boys in Bay State are just looking forward to having the chance to be a team again.
"We want to be a team who is tough to play against night in and night out," said Langevin.
"We were able to get through a full season last year, but not the way we wanted to. I know our guys are excited to be able to be together more and bond more as a team."
Next up: Bozeman Icedogs