3View: Great Falls Americans
August 24, 2021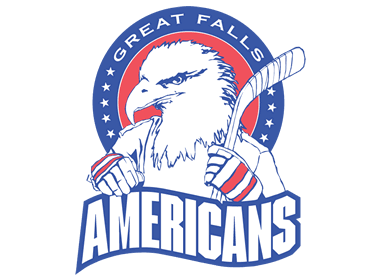 The 3View series will feature an in-depth look into all NA3HL teams in preparation for the 2021-22 season, with two teams being highlighted daily, leading all the way up until the start of the regular season. 3View goes in-depth into each NA3HL team and will include interviews with all the head coaches in the NA3HL, as they provide fans with their expectations and outlook for the 2021-22 season, including taking a look at their potential roster and their strengths as a team for the upcoming season. It will also take a look back on the 2020-21 season and how each team fared and what they accomplished. Best of all, 3View will provide the fans of the NA3HL with an inside look at their favorite team and what to expect.
Great Falls Americans
2020-21 Record: 27-11-2, 56pts (2nd in Frontier Division)
2021 Playoffs: Lost in Division Finals
Head Coach: Greg Sears
2021-22 Division: Frontier
The NA3HL's Frontier Division has seen an almost annual shuffle at the top of the standings, but the Great Falls Americans are always in the mix.
After an impressive 9-0-1 run to close out the 2020-21 regular season, the Americans knocked off Gillette before falling to the league-leading Sheridan Hawks in a tense three-game series, marking their second consecutive loss in the division finals.
Head Coach Greg Sears knows that getting close isn't enough, but he remains steadfast in his belief that his team will get the job done.
"We have been right there in the last three seasons. We have been a game away (from advancing) in two of the three seasons, and during the 2019-20 season (which was interrupted by COVID-19) we also felt we had a good chance. I think we just need to try to break down that door. Solid goaltending and putting the puck in the net when it counts are a given to reach that level. We think we have the guys this year that can give us another shot," he said.
Getting the Americans over the divisional hurdle will require a stout work ethic from each player and dedication to getting the little things right, day in and day out.
"We want to bring a lot of energy each night. We play habit hockey — focusing on creating good habits which should give us a chance to win every night," said Sears.
Watch: Great Falls Americans season preview
Building those habits will be easy with much of the roster having played in Great Falls before. A healthy contingent of veteran players will give the Americans plenty of reason to believe they can take the Frontier Division crown this year.
"We will return 14 players from last year's team. We are excited about the return of goaltender Ben Winkler. Ben was 6-0-1 for us last year after joining our club. He is 6-foot-7 and does a nice job. We will also look for big seasons out of Micah Serino and Jackson Henningsgard. Both can put the puck in the net," said Sears.
Off the ice, Great Falls' reputation of developing solid hockey players bodes well for those returners and the younger players alike. Three Americans earned college commitments in 2020-21, and one more earned an NAHL tender — something Sears prides himself on.
"It means a lot to us to get guys to a higher level. Tommy Gazich, who played for us last season, was tendered by Minot and has made their training camp roster. We are excited about his opportunity and hope to have guys make the jump in the future," he said.
But even with their high expectations for the coming campaign, Sears and his team are keeping everything in perspective.
"The biggest lesson learned from last year is to expect the unexpected. We will take one day at a time and try not to take anything for granted," he said.
"We get to play hockey in one of the coolest parts of the country. We are going to enjoy it."
Next up: Helena Bighorns