August 25, 2021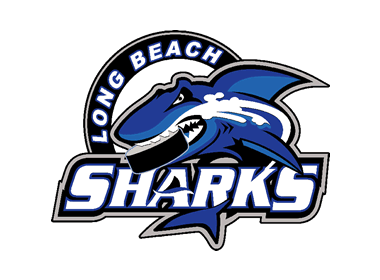 The 3View series will feature an in-depth look into all NA3HL teams in preparation for the 2021-22 season, with two teams being highlighted daily, leading all the way up until the start of the regular season. 3View goes in-depth into each NA3HL team and will include interviews with all the head coaches in the NA3HL, as they provide fans with their expectations and outlook for the 2021-22 season, including taking a look at their potential roster and their strengths as a team for the upcoming season. It will also take a look back on the 2020-21 season and how each team fared and what they accomplished. Best of all, 3View will provide the fans of the NA3HL with an inside look at their favorite team and what to expect.
Long Beach Sharks
2020-21 Record: 9-24-5, 23pts (5th in East Division)
2021 Playoffs: Lost in Division Semi-Finals
Head Coach: Chris Lloyd
2021-22 Division: East
The 2020-21 season was a wild one for many reasons. The Long Beach Sharks, for example, struggled during the regular season with just nine wins in 38 games, but earned a playoff bid and eventually found themselves just one win shy of making it to the East Division final.
In what was a trying year for every team, the Sharks found a way to push through, both on and off the ice — something Head Coach Chris Lloyd is quite proud of.
"Last season was obviously tough for everyone due to COVID-19 and the state restrictions that went with them. Everyone in the Sharks organization, from the owner to the game day staff, did an unbelievable job getting the season run as best as possible," he said.
Between pandemic-driven restrictions limiting the Sharks to playing solely on the road until a very delayed home opener on Feb. 1, rinks being closed for weeks at a time, forcing impromptu practices at different facilities and, of course, the pandemic itself, the adversity facing NA3HL teams was as stiff as ever last season.
But Lloyd believes his Sharks will be better for having persevered through it, especially with practice times, game scheduling and travel returning to a more normal routine this year.
"Throughout all of that our players fought through the adversity, didn't complain once and worked on getting better. If our players can have success through a crazy season like last year, they can prosper in a more structured consistent setting like we hope to have this upcoming season," he said.
The benefits of that experience are compounded by the high number of returning players that Long Beach will feature this year. Mix in some talented youngsters with a leadership group that knows how to roll right through adversity, and you have a dangerous team.
"We have eight players returning next season, which is significant. Those eight guys know what is expected from the coaching staff, they know the area and are great representatives of the organization. Beyond those players, we have a great mix of first-time Junior players and veterans that we expect to have success both on and off the ice," said Lloyd, "The entire coaching and hockey operations staff believe that this roster is the deepest roster in recent memory of the Sharks organization."
What will that amount to on the ice, though? After a few seasons of struggling to find wins, Lloyd says increased preparation during this offseason will set the team up for a new level of success in 2021-22.
"Sharks fans will see a very hard-working, disciplined team next season. The coaching staff has been working with the team throughout the summer, implementing expectations and systems for our players so that we can hit the ground running when they report to the team. We've had success bringing in what we believe are the right types of players that fit the standard of our organization. We are looking forward to what this group will achieve this season," he said.
Watch: Long Beach Sharks season preview
With more wins will come more eyes from NAHL and collegiate scouts. The Sharks saw five players earn college commitments last season, and look forward to raising the bar in that department, as well.
"We are very proud of (the five commitments). That's why we do this, to give these players an opportunity to advance to the next level. Whether it is NCAA, ACHA, or Tier I/II junior hockey, the coaching staff works every day to prepare our players to achieve their goals," said Lloyd.
It's a new dawn for the Long Beach Sharks. A refreshed feeling after the most trying and unique season in Junior hockey history, a healthy mix of talented players and plenty of preparation during this offseason are helping Long Beach build towards a charge up the standings.
"We have very high expectations for this team," said Lloyd, "Our players know what the goals are and they know what they need to do to achieve those goals."
Next up: Louisiana Drillers