3View: Norwich Sea Captains
August 30, 2021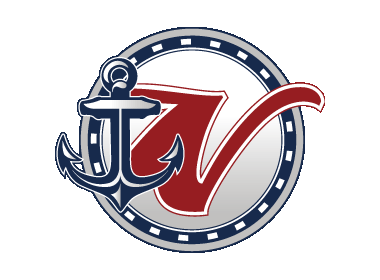 The 3View series will feature an in-depth look into all NA3HL teams in preparation for the 2021-22 season, with two teams being highlighted daily, leading all the way up until the start of the regular season. 3View goes in-depth into each NA3HL team and will include interviews with all the head coaches in the NA3HL, as they provide fans with their expectations and outlook for the 2021-22 season, including taking a look at their potential roster and their strengths as a team for the upcoming season. It will also take a look back on the 2020-21 season and how each team fared and what they accomplished. Best of all, 3View will provide the fans of the NA3HL with an inside look at their favorite team and what to expect.
Norwich Sea Captains
2020-21 Record: Did not play
2021 Playoffs: Did not play
Head Coach: Kevin Cunningham
2021-22 Division: East
The NA3HL's expansion further into New England continues with the introduction of the Norwich Sea Captains this season. Joining the wide-open East Division, Norwich will look to follow in the footsteps of teams like Danbury and New Jersey, who found early success in the division in the past two seasons.
Though an inaugural season is sure to be something of a rollercoaster, the Sea Captains have an experienced voice behind the bench to navigate year one. Head Coach Kevin Cunningham will lead the Sea Captains into their debut campaign after two years behind the bench in Danbury.
"The experience that I gained during my first two seasons in the NA3HL in Danbury has been invaluable as we prepare for our inaugural season in Norwich.
"I believe that our organization has a strong plan in place to build a solid foundation for our program to thrive on and off the ice. I am confident that we have many of the right pieces in place already to put a successful team on the ice, but we have also made some fantastic inroads within Eastern Connecticut to support our players and program off the ice as well.
"It is our intention to build a program that players and families will recognize as one that they want to be a part of in short order," said Cunningham.
Cunningham knows better than most that building a team from the ground up presents a unique opportunity for coaches, front office staff and players alike, and that's something he looks forward to.
"I am extremely excited about working with our players and staff every day. They all made a commitment to a new program with an ambitious vision. Our first practice, our first game, our home opener and countless other firsts are all historic moments for our program. I have had the good fortune to help start programs at both the junior and collegiate levels and I can definitively say that the bonds created on teams during their inaugural season are special. I am looking forward to setting the foundation of a program that will make our players proud to come back to Norwich years from now knowing that they played a vital role in building something uniquely rewarding for all of our players as well as our community," he said.
Cunningham helped the Jr. Hat Tricks to back-to-back seasons of 20+ wins, including a 23-13 record last in a challenging 2020-21 year that resulted in the team's first playoff appearance.
As he looks to bring that kind of early consistency over to Norwich, expect his Sea Captains to come into the new year with plenty of passion and desire to win. There will be no "feeling out" period in Norwich — just full steam ahead.
Watch: Norwich Sea Captains season preview
"The Norwich Sea Captains will play an aggressive, up-tempo style that will highlight our players' skillsets. Coaches and scouts who evaluate our players will get to see them play with passion and make decisions. Not all of those decisions will work out, but we will play together with purpose. We will be accountable to each other in everything that we do so that we will be able to look in the mirror at the conclusion of every day knowing that we have done everything that we can to strive for excellence and support each other," said Cunningham.
In terms of personnel, look for a mix of NA3HL veterans and young talent to set the pace in Norwich this year.
"I am excited about every player on our roster," said Cunnigham. "We have talented, high-character young men who are excited about being a part of our inaugural season. Up front, we will look for strong two-way play and leadership from Ethan Ranger and Drew Schemmel. I am looking forward to working with our deep and talented defensive corps which will be led by Sean Loftus and Nick Sachs, who bring accountability and experience to a unit that has some exciting young players who we believe have excellent growth potential. We will have healthy competition in net with three quality young men in Brendan Pellerito, Alex Tsymbalyuk and Andrew Yocum who will push each other every day and create an area of strength that our entire team will be able to rely on consistently."
Schemmel and Loftus join Norwich from defending division champion Northeast, while Tsymbalyuk (New Jersey) and Pellerito (Bozeman) add their names to the list of NA3HL veterans on the Sea Captains' roster. Yocum joins as a graduate of the NAPHL, having played for both Carshield AAA and the Affton Americans of the Showcase Division since 2017.
One of Cunningham's hallmarks during his time with Danbury was the team's stellar player advancement numbers. Last season alone saw two Jr. Hat Tricks skaters sign tenders with the organization's NAHL team, another player was selected in the 2021 NAHL Draft, and a whopping nine earned college commitments, with five of those being in the NCAA.
As Norwich looks to find success in the standings, so too will the team set a high expectation for its players' development.
"Player advancement is one of the three core goals that we strive to meet for each of our individual players. Providing a top-notch experience and maximizing development are the other two metrics that we measure to determine our success. Winning is a by-product of doing things right consistently," said Cunningham.
"We will focus on our process goals and being a bit better every day. Our players are talented enough that if they buy into our process and give themselves and each other their best every day they will earn access to the right opportunity for their futures, either in college or junior hockey."
Next up: Oklahoma City Ice Hawks