August 31, 2021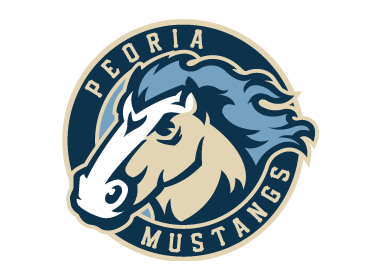 The 3View series will feature an in-depth look into all NA3HL teams in preparation for the 2021-22 season, with two teams being highlighted daily, leading all the way up until the start of the regular season. 3View goes in-depth into each NA3HL team and will include interviews with all the head coaches in the NA3HL, as they provide fans with their expectations and outlook for the 2021-22 season, including taking a look at their potential roster and their strengths as a team for the upcoming season. It will also take a look back on the 2020-21 season and how each team fared and what they accomplished. Best of all, 3View will provide the fans of the NA3HL with an inside look at their favorite team and what to expect.
Peoria Mustangs
2020-21 Record: 29-9-2, 60 pts (2nd in Central Division)
2021 Playoffs: Lost in Division Final
Head Coach: Steve Ortman
2021-22 Division: Central
The Peoria Mustangs have quietly become one of the most consistently successful teams in the NA3HL, earning 20+ wins and a playoff bid in each season since joining the league.
But deep postseason success continues to elude them, even last season after 29 wins in 40 regular-season games, the Mustangs were ousted in a deciding game three by the eventual Fraser Cup finalist Rochester Grizzlies.
Peoria clearly boasts plenty of talent from top to bottom, but Head Coach Steve Ortman says that some inexperience cost them against a veteran-heavy Grizzlies team in the Central Division Final.
"Having another gear (this year) will be key. We played very well all season, but with a young team, we didn't have that 'next-gear' mentality and Rochester had a lot of veterans that had that next gear," he said.
The benefit of having that youth, though, is that the Mustangs have the ability to run it back with several of last year's key contributors.
A solid core that includes last year's leading scorer Ethan Chesney and a pair of top-10 performers in Jared Wisely and Jaycob Bland will look to erase the memories of last year's defeat and help the Mustangs top the Central Division for the first time since the 2013-14 season.
Watch: Peoria Mustangs season preview
"We have several players that will be key for us. (Chesney, Bland and) Tristan Trudel will be expected to lead the way up front. (Wisely) will be big for us with his leadership and ability to control games as a forward or a defenseman. Other returners in Conner Henderson and Hubert Guzzy will be expected to lead our defensive core," said Ortman.
As for the rest of the roster, expect a heavy-hitting, aggressive Mustangs team in 2021-22.
"We focused on, and brought in, both size and speed when doing our recruiting over the off-season. This year, our fans will see a much bigger and aggressive team with a hard-nosed, 60-minute mentality," said Ortman.
Last season was also a strong showing for Peoria off the ice, with three players earning college commitments and three more earning NAHL tenders. And though advancement always leaves holes in the roster, Ortman says that's the best kind of problem to have.
"Our organizational focus has always been and will continue to be development and advancement of players. We should have to rebuild every year, that's what we strive for," he said.
Now that Ortman and his Mustangs have established a tradition of winning on and off the ice within the organization, it's time to translate that into titles and playoff success.
"For the Peoria Mustangs to have a successful season, we must develop our players, make the playoffs, and make a run at a Fraser Cup championship, he said.
Next up: Rochester Grizzlies