September 3, 2021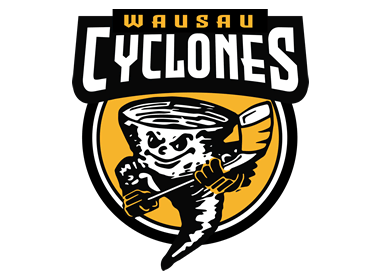 The 3View series will feature an in-depth look into all NA3HL teams in preparation for the 2021-22 season, with two teams being highlighted daily, leading all the way up until the start of the regular season. 3View goes in-depth into each NA3HL team and will include interviews with all the head coaches in the NA3HL, as they provide fans with their expectations and outlook for the 2021-22 season, including taking a look at their potential roster and their strengths as a team for the upcoming season. It will also take a look back on the 2020-21 season and how each team fared and what they accomplished. Best of all, 3View will provide the fans of the NA3HL with an inside look at their favorite team and what to expect.
Wausau Cyclones
2020-21 Record: 6-33-1, 13 pts (6th in Central Division)
2021 Playoffs: Did not qualify
Head Coach: Colin Bailey
2021-22 Division: Central
The Wausau Cyclones enter the 2021-22 season with new ownership and new branding, eager to put a tough couple of seasons behind them.
Head Coach Colin Bailey has seen the team struggle in the tough Central Division over the past couple of years, but believes the winds of change are blowing in central Wisconsin.
"There is a tremendous level of excitement surrounding the change in ownership and rebranding of our program. With the local roots in place with our ownership group and the rich history between the Cyclones program and the city of Wausau, there is a sense of excitement surrounding this season within the community like never before," he said.
A number of returning players will carry the flag for the newly named Cyclones, including Pavel Bakhtin and Nolan Gifford — each of whom finished in the top five in team scoring last season. Throw in a few potential difference-making new recruits, and there's plenty of cause for anticipation in Wausau.
"We have a great mix of returning players and incoming players. We expect returning players Hayden Shoemake, (Bakhtin and Gifford) to have very impactful seasons for us on the front end. We are expecting incoming players Luke Anderson, CJ Zins, Derek Cagle, Will Britton and Gage Vierzba to have an immediate impact on our lineup," said Bailey.
With a deeper talent pool in the roster, look for the Cyclones to up the pace in their play this year. Bailey expects smoother transition play and plenty of speed in attack as the team looks to improve on the league's second-lowest goal total in 2020-21.
"Fans can expect our brand of hockey to be fast and physical. We have a very solid and deep defensive corps who will be able to move the puck up the ice quickly, as well as some talented forwards with size and skill who can put the puck in the net. We plan to be an exciting team to watch and give our local fans an exciting experience with every game," said Bailey.
Watch: Wausau Cyclones season preview
But even as the Cyclones are on the hunt for more wins, Bailey wants to see his players get their due in the NAHL and collegiate ranks for years to come.
"Our ultimate goal as a program is advancement. Last year we were able to get a handful of players ACHA Division I commitments. With 6 incoming '01 players, we plan to get them plenty of opportunities to get an NCAA commitment. We plan to provide our 02's and 03's with multiple opportunities to be seen by NAHL programs throughout the year with hopes of moving players to the Tier II Junior level for next season," he said.
That commitment to organizational success means more than just good practices and workout sessions. Bailey is focused on the full-scale development of each player to help the team achieve its goals.
"We want to be able to say that we not only improved each player on the ice, but also provided them with life skills that they can carry with them throughout their lives and created a family that develops lifelong friendships between our players," he said.
"We also want to lay the foundation for our program to be successful for years to come. If we do all of that, we can consider this a successful season."
Next up: Willmar WarHawks