September 4, 2021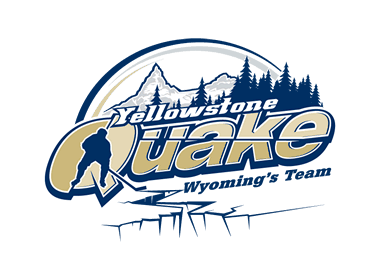 The 3View series will feature an in-depth look into all NA3HL teams in preparation for the 2021-22 season, with two teams being highlighted daily, leading all the way up until the start of the regular season. 3View goes in-depth into each NA3HL team and will include interviews with all the head coaches in the NA3HL, as they provide fans with their expectations and outlook for the 2021-22 season, including taking a look at their potential roster and their strengths as a team for the upcoming season. It will also take a look back on the 2020-21 season and how each team fared and what they accomplished. Best of all, 3View will provide the fans of the NA3HL with an inside look at their favorite team and what to expect.
Yellowstone Quake
2020-21 Record: 12-25-3, 27 pts (7th in Frontier Division)
2021 Playoffs: Did not qualify
Head Coach: CJ Sweigart
2021-22 Division: Frontier
The Yellowstone Quake have seen their share of success in the NA3HL, with three consecutive trips to the Fraser Cup Championship from 2016-2018, but have struggled to regain that form in recent years. Back-to-back sub 20-win seasons have kept them from the postseason altogether, including last season's 7th-place finish in the always-tough Frontier Division.
But with a new head coach in CJ Sweigart, the Quake are ready to rebound in 2021-22. Sweigart certainly expects to pile up more wins in his first year as coach, but says he is also driven by off-ice goals as well.
"Our goals as a coaching staff and as a team are to foster an environment for maximum competitiveness and development of our players with a dedication to winning. We view these goals as intertwined and a circle of success. We are also fortunate to have a group that excels in the classroom as well, and we want to continue to allow these student-athletes access to grow their educational prospects," he said.
Sweigart's goals are buoyed by a steady class of veteran players on this year's roster. The return of second-leading scorer Jack Harris, as well as another key contributor in Keegan Ferguson, bode well for Yellowstone's offensive ability, but Sweigart is excited about a number of players throughout the lineup.
"We obviously have a very strong player production-wise in Jack Harris up front. He is joined this year by Keegan Ferguson who has already made huge strides during training camp. New addition Cam DeForest and returner Brandon Kididis, both Ohio boys, made huge strides in camp as well. We expect them to lead the way up front for us. On the back end we expect Joey Epplin, our captain Cole Whitman and assistant captains Logan Brown and Mason Merager to be solid veteran players who we can rely on night in and night out for big minutes," he said.
Watch: Yellowstone Quake season preview
With a strong nucleus, Yellowstone is a team poised to make a climb up the standings in 2021-22. And although Sweigart is realistic about the time it will take his players to adapt to his systems, there is already reason for optimism in Cody, Wyoming.
"We will play a structured game that allows our players the ability to make plays and succeed within that structure. With our mixed group of veterans and younger guys and an entirely new system for all of them to learn this year, we want to be hard to play against every weekend, but it won't happen overnight — we know it's a process. Assistant Coach Dan Zawacki, an alumnus of the Bismarck Bobcats, has already been instrumental in helping our guys with the skill detail within our system," said Sweigart.
Part of Sweigart's ambition in year one is to see his players earn more opportunities in the NAHL and collegiate ranks. In the ideal environment, as each player develops his own skills, he also builds up those around him.
"At the end of the day, it is our goal to move players on above all else. Moving guys on and seeing them get opportunities they have earned helps our league, program, and players. We also want each player to understand they play a vital role in helping their teammates achieve advancement as well," he said.
Performance-based aspirations aside, Sweigart is taking it all in during his first year behind the Yellowstone bench. At this level, success means more than solely winning hockey games — important as that may be — and Sweigart relishes the opportunity to see his players come together as a team.
"Our goal and how we define success always comes back to winning hockey games, developing players and getting them opportunities at the next level. However, we also want to instill a culture of team-first, trust, and competition — our guys have made great strides thus far as for how close they have become as a group off the ice in such a short time. For example, helping each other out when another player is short-staffed at work — they are there for each other, which is great to be a part of as a coach and as a player, and they are building friendships and relationships for life. That is something we can always look back on as a success," he said.
It has been a bumpy couple of years for Yellowstone, but a new coach and a veteran-led roster are ready to right the ship and get things going in the right direction.