Saturday Scores: Austin gets first NA3HL win
September 26, 2021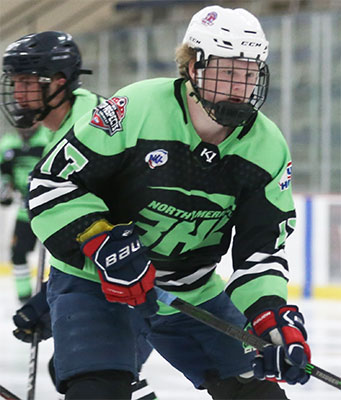 Mid Cities 1 @ Austin 5 - The Ice Bats raced out to an early 2-0 lead and never looked back, cruising to a 5-1 win over the Jr. Stars for their first victory as an NA3HL team. Connor Doyle, Maddox Hoff, Dominic Toews, Nickolas Friedenberg and Brody Beahan provided the offense for Austin, while Ilnur Madiarov nabbed Mid Cities' goal. Sebastian Skarzenski of Austin earned the win between the pipes, outdueling Quillon Bowman in Mid Cities' cage.
New Ulm 2 @ Granite City 5 - A pair of Kyle Mortenson tallies saw the Lumberjacks take an early advantage in this contest, en route to a 5-2 win over the visiting Steel. Brett Reed, Ben Anderson and Tucker Skime rounded out Granite City's scoring, as Gavin Brunmeier and Jack Laser fueled New Ulm's late push. Andrew Tuttle finished with 14 saves in the win, while New Ulm's Zach Foster was far busier with 41 saves in his team's defeat.
Wausau 6 @ St. Louis 0 - The Cyclones picked up a resounding 6-0 win over their division rival Jr. Blues on Saturday, buoyed by a 24-save shutout from goaltender Zach Dosan and a pair of goals from Gage Vierzba. Wausau's Dominick Bourdon, Tanner Chapman, Luke Anderson and Griffin Lennes rounded out the scoring in this one as St. Louis goaltender Ethan Jourden stopped 30 of 36 pucks that came his way.
Norwich 1 @ Long Beach 4 - Mikita Miadzvedzeu scored twice, Ryo Murakami stopped 19 shots and the Long Beach Sharks cruised past the Norwich Sea Captains 4-1 on Saturday. Ryo Yamamoto and Jake Weikel also scored for Long Beach, while Trevor Souza posted Norwich's lone goal. Sea Captains netminder Andrew Yocum was busy between the pipes, stopping a whopping 50 of 54 shots in the tough loss.
Alexandria 5 @ Mason City 8 - Two-goal efforts from Cal Levis and Carter Newpower paced the Mason City Toros as they outlasted the Alexandria Blizzard for an 8-5 win at home on Saturday. Jack Campion, Ryan Kaspar, Brendan Sloth and Easton Tok chipped in goals for Mason City as well, while Ryan Hadland, Wyatt Johnson, Matt McIntyre, Justin Wasvick and Michael Debrito put the Blizzard on the board. Rielly Eason finished with 20 saves in the win, while Jack Coleman and Bailey Rosch combined for 28 stops in goal for Alexandria.
Atlanta 1 @ Louisiana 5 - Ten different Drillers found the scoresheet as Louisiana knocked off the Atlanta Capitals 5-1 in Lafayette on Saturday. Chris Littlefield, Anderson O'Connor, Bobby Hoskins, Mark Kurliandchyk and Josh Hrip provided the Drillers' offense in front of Evan Wittchow's 26 saves in net. Ryan Eckliff tallied Atlanta's lone goal, as Brendan Smith put in an impressive 46-save shift between the Capitals' pipes.
Oregon 2 @ Peoria 1 (OT) - It was Sam VanderHoeven's moment on Friday night as the Oregon sniper tallied late in the third period to tie the game at one, then lit the lamp again under a minute into overtime to give the Tradesmen a huge comeback win on the road over the Mustangs. Ethan Chesney grabbed the lone goal for Peoria in the first period -- the only scoring until VanderHoeven's late strike. Ian Hedican was stellar in net for Oregon, stopping 44 of 45 shots for the win. Joe Ambroffi was stout in net for Peoria as well, turning aside 28 of 29 in the loss.
Bay State 1 @ New Jersey 5 - Samuel Senft's two goals and Donavon Alfama's 34 saves led the way as the Titans filled the net in a 5-1 win over the Bobcats on Saturday. Jacob Renbarger, Roland Ponechal and Joey Mataviesko also found twine for New Jersey, while Michael Fritz put Bay State on the board. Braeden Bovey of Bay State finished with 29 saves in the loss.
Willmar 11 @ Minnesota 0 - The Warhawks imposed their will on the Loons on Saturday, racking up hat-tricks from Nolan Grier and Tyler Misialek and a stunning 51-save shutout from Cooper Olson en route to a resounding 11-0 win on the road. Max Cohen, Caleb Roehrich, Jeremiah Konkel, Elbridge Dekraai and Ethan Mock also found twine for Willmar amongst a rampant offensive showing that included multi-assist showings from Collin Kerchoff (3a), Luke Johnson (3a) and Brady O'Brien (2a). Minnesota netminders Payton West and Owen Reeve combined for 20 saves in the lopsided loss.
Great Falls 3 @ Gillette 4 (OT) - A back-and-forth affair through 60 minutes gave way to a deciding tally from Gillette's Tristan Baker to give the Wild a 4-3 overtime over the team's Frontier Division rival Great Falls Americans on Saturday. Will Blake and Caleb Sanborn of Gillette sandwiched Micah Serino's goal for Great Falls for a 2-1 Wild lead at the end of one period, before Declan Young stretched the advantage to two early in the second. Hunter Maschke, however, had other plans, as he struck twice in 10 minutes to level the score for Great Falls before the end of 40 minutes. A scoreless third led to overtime, where Baker's heroics shone through. Great Falls goaltender Ben Winkler was stellar despite the loss with 59 saves on 63 shots, but it was Gillette's Jack Orchard taking the win between the pipes with a sturdy 23-save effort.
Bozeman 2 @ Helena 6 - Bighorns forward Samuel Feamster potted a hat-trick on Saturday to pace his team's 6-2 win over the Icedogs at home. Nick Cofer, Gavyn Galloway and Tyler Bloom joined him in Helena's goal column, while Ian Bowman and Luke Hartmark posted Bozeman's tallies. Anthony Adleman earned the win in Helena's crease with 28 saves on 30 shots, while Liam Scott of Bozeman faced down 46 of 52 in the Icedogs' cage.
Butte 5 @ Sheridan 3 - A balanced scoring attack and a strong 39-save showing in net from Caleb Cross saw the Cobras oust the Hawks 5-3 for a big road win on Saturday. David Hanny, Luke Schleusner, Cade Wessman, Fabian Vik and Nick Bradshaw filled the Butte goal column, while Nathan Awoyemi, Nathan Gilleshammer and Makhai Sparks put Sheridan on the board. Garrison Schilling and Patric Loeffler finished with 34 shared saves for the Hawks.