NAHL announces Combat Hockey 3 Stars of the Week
October 3, 2011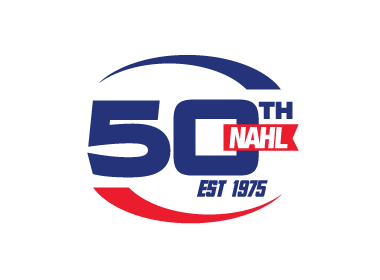 The North American Hockey League (NAHL) today announced the Three Stars of the Week presented by Combat Hockey for the week ending October 2, 2011. The Three Stars of the Week is a weekly feature during the 2011-12 regular season that honors the top performing players each week of the regular season as nominated by their respective teams.
1st Star: John Gustafsson, forward, Amarillo Bulls
Gustafsson, 19, recorded seven points (4g, 3a) during the Amarillo Bulls three-game weekend against the New Mexico Mustangs, which the Bulls went 2-1 maintaining their 1st place standing atop of the South Division. On Friday, Gustafsson, who is from Ljungby, Sweden, had a goal and two assists in the Bulls convincing 7-2 win on the road against the Mustangs. The next night, Gustafsson had a goal and an assist in a 5-4 loss at home against New Mexico. On Sunday, the 6'1/185 lbs. forward had two of Amarillo's three goals in a 3-1 win back in New Mexico. "John had a great weekend and he has a tremendous skill set," said Bulls head coach Dennis Williams. "He is still trying to transition from playing in Sweden and I think he has done a great job so far." Two of his four goals were on the power play and he was also +5 during the weekend. For the season, Gustafsson not only leads all Bulls scorers, but also is tied for fourth in league scoring with 12 points.
2nd Star: Riley Borer, forward, Fresno Monsters
Borer, 20, helped keep the Fresno Monsters perfect and undefeated record alive, as the Monsters swept a two-game set on the road in Dawson Creek against the Rage this past weekend. Borer, who is from Brooklyn Park, Minnesota, began the weekend with two of Fresno's three goals on Friday night in a 3-1 win, which included the game-winner late in the 2nd period. A night later, the 5'10/180 lbs. forward had another goal and assisted on the game-winner in a 3-2 win over the Rage. It was Borer's first four points of the season. "Riley was due and we are very happy for him to see that he is getting his scoring touch back early in the season," said Monsters head coach Eric Ballard. "He will be a key ingredient for the Monsters to have continued success this year."
3rd Star: Frank DeAugstine, forward, Bismarck Bobcats
DeAugustine, 20, recorded five points in two games, as the Bismarck Bobcats won both of their weekend road games to stay atop of the NAHL Central Division standings with a 6-2-0 record. On Friday night, DeAugustine, who hails from Burgettstown, Pennsylvania, had two goals and two assists in a 7-2 win over the Aberdeen Wings. On Saturday, DeAugustine assisted on Bismarck's first goal as they held on for a 4-3 win at Minot. The 5'10, 185 lbs. DeAugustine was one of Bismarck's offensive leaders a season ago, scoring 21 goals with over 40 points. This season, he is off to a nice start with nine points in his first eight games. "Frank is picking up right where he left off from last year and playing very well on special teams," said Bobcats head coach Layne Sedevie. "Aberdeen and Minot are very tough places to play and Frank handled it with veteran leadership and presence."
Other players nominated were (alphabetical): Ryan Atkinson, forward, Odessa Jackalopes – Mikhail Bushinkski, forward, Fresno Monsters – Brian Christie, forward, Topeka RoadRunners – Alex Globke, forward, Port Huron Fighting Falcons – Chad Hennum, forward, Odessa Jackalopes – Taylor Herndon, forward, Texas Tornado – Dennis Kravchenko, forward, Wichita Falls Wildcats – Jordan Lovick, forward, Texas Tornado – Sean Muller, forward, Kenai River Brown Bears – Alex Okicki, goaltender, Kalamazoo Jr. K-Wings – Shane Omdahl, forward, Bismarck Bobcats – Anton Racklon, defenseman, Fairbanks Ice Dogs – TJ Sarcona, forward, Amarillo Bulls – Nico Sierra, forward, Port Huron Fighting Falcons – Joe Smereck, forward, Corpus Christi IceRays – Michal Toman, forward, Traverse City North Stars – Brandon Wahlin, forward, Austin Bruins – Ryan White, forward, Topeka RoadRunners.