Janesville's Tony Kujava named Brian's Goalie of the Month
October 6, 2011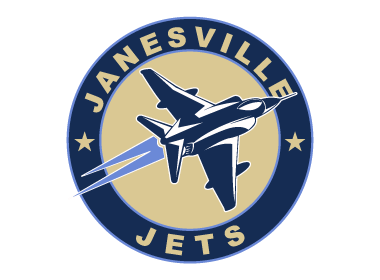 The North American Hockey League (NAHL) has announced that Janesville Jets goaltender Tony Kujava has been named the Brian's Custom Sports NAHL Goaltender of the Month for September.
Kujava, a 19-year-old from Green Bay, Wisconsin, posted a 6-0-0 record, including three shutouts, as he led the Jets to a perfect record in the month of September, starting in every game for Janesville during that time span. Kujava posted a 1.17 goals against average and a 95.6% save percentage, stopping 153 of 160 shots he faced during the month. "I think getting off to a good start was something that Coach (Dane) Litke stressed from the beginning of camp, so we were all focused on playing well at the Showcase and taking advantage of the opportunity," said Kujava. "My teammates have done a great job of buying into the system and it allows me every opportunity to be successful."
Kujava has certainly paid his dues, especially last season when he had to back-up then starting goaltender David Jacobson. "What people forget is that when Tony did get the opportunity to play last year, he put up some great numbers and even got us our wins last year in the playoffs, so we knew he was certainly capable," said Jets head coach Dane Litke. "He stayed patient knowing his big opportunity to play would come this year, but I believe he is a better goaltender today because of what he learned last year in more of a supporting role."
Kujava, who posted a 1.69 goals against average and 93.6% save percentage in 18 regular season games last year, agrees with Litke. "It not only made me a stronger goalie, but a stronger person," said Kujava. "I tried to soak it all in, knowing that eventually I would get the opportunity to show what I could do."
The Jets won the 2011 NAHL Showcase with a perfect 4-0-0 record, which included two shutouts from Kujava. In the four games, Kujava allowed just three goals, allowing Janesville to have the best goal differential in the tournament as they edged out Fresno and Fairbanks for the Showcase title. The following weekend, Kujava would play in both games in a weekend home sweep of the Springfield Jr. Blues. Kujava would post his third shutout of the year in the process, giving him a month to remember. "It's early and we have a long way to go, but the ultimate goal is the Robertson Cup," said Kujava. "We have had some pretty good success in the regular season, but we have to figure out a way to get over the hump and find success in the playoffs."
As for Kujava's plans after playing in the NAHL, he said he received some good interest at the NAHL Showcase. Kujava indicated that several NCAA schools have approached him to discuss his college plans, but he said playing NCAA Division I hockey is something that he definitely wants to do, following his NAHL career.
Other goaltenders nominated were (alphabetical): Connor Hellebuyck, Odessa Jackalopes - Nick Kulmanovsky, Alaska Avalanche - Kyle Laslo, Traverse City North Stars - Robert Nichols, Wenatchee Wild - Alex Okicki, Kalamazoo Jr. K-Wings.
About Brian's Custom Sports
The Official Goaltending Equipment Supplier of the NAHL, Brian's has been a leading Canadian supplier of custom built goal equipment since 1984. The factory is located in Kingsville, Ontario near the Southern tip of Canada with ready access to supplying the North American market. As one of the original and remaining custom goal equipment manufacturers Brian's remains committed to continuing to lead the industry with exceptional design and quality. Visit Brian's online.