Sunday Wrap-up: Generals stay perfect with shutout
November 22, 2021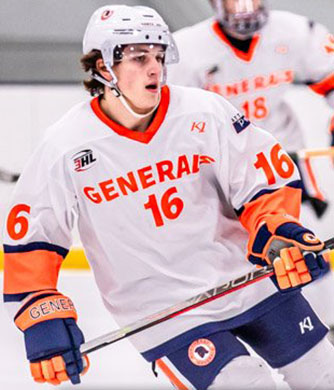 Northeast 7 @ New Jersey 0 – The Generals improved their record to a perfect 15-0 on the season with a convincing 7-0 win in New Jersey on Sunday. Payton Felix and Caiden Hess each scored twice in the win and Owen McNamee had four assists. Hess opened the scoring the 1st period, which also included a goal from Nolan Murphy. In the 2nd period, the lead swelled to 5-0 as Matthew Nuzzolilo, Braeden Kennedy, and Felix all scored. In the 3rd period, Hess and Felix both added their second goals of the game to complete the scoring. Generals goalie D'Mar McCoy made 15 saves in his second shutout of the season, while Colin Freitas and Donovan Alfama combined for 77 saves in the loss.
El Paso 4 @ Oklahoma City 5 – The Ice Hawks won their ninth straight game as they completed a three-game home sweep of the Rhinos thanks to a 5-4 win on Sunday. Vincent Anderson had two goals in the win. The Ice Hawks jumped out to a 3-0 lead thanks to goals from Tyler Larsen, Robby Rabroker, and Anderson. El Paso evened things up with the next three goals as Dani Ceullar scored twice and Zachary Ware added another. Late in the 3rd period, another goal from Anderson and one from Noah Henslee late would prove to be the difference. Jaxon Penner had the other goal for El Paso. Garrett Johnson made 23 saves in the win, while Camden Pendleton made 33 saves in the loss.
Mid Cities 6 @ Atlanta 2 – The Stars picked up a weekend series win as they beat Atlanta on Sunday, 6-2 taking two of three games in the series. Anfernee Machado recorded a hat-trick to lead the Stars. It was the Capitals who got out to an early 2-0 lead thanks to a pair of goals from Kirill Nikulichev. The Stars would then respond with six unanswered goals in the 2nd and 3rd periods. Machado started the momentum swing late in the 2nd period, then would add two more goals in the 3rd period. Also scoring for Mid Cities was Ilnur Madiarov, Brendon Zeis, and Isaac Fuller. Quillon Bowman made 32 saves in the win, while Coleman Garnier made 48 saves in the loss.
Norwich 2 @ Bay State 3 – Bobcats goalie Braeden Bovey made 57 saves and Landon Boothe had a two goals and an assist to lead Bay State to a 3-2 win over Noriwch. After a scoreless 1st period, Noriwch took a 2-0 lead with 2nd period goals from Teagen Beier and Ethan Ranger. The Bobcats then came back to score three goals in the 3rd period, which included a goal from Will Comrie and two from Boothe. Sea Captains goalie Alex Tsymbalyuk made 39 saves in the loss.