NA3HL announces monthly player awards for November
December 1, 2021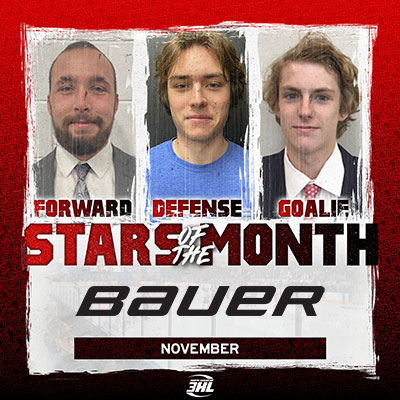 The North American 3 Hockey League (NA3HL) has announced its monthly player awards for the month of November. The Forward of the Month is Sam Vanderhoeven of the Oregon Tradesmen. The Defenseman of the Month is Joey Carollo of the Texas Brahmas. The Goaltender of the Month is Matthew Smith of the Granite City Lumberjacks. Only players who are nominated by their respective teams are considered for the NA3HL monthly awards.
Bauer Hockey NA3HL Forward of the Month: Sam Vanderhoeven, Oregon Tradesmen
Oregon Tradesmen forward, Sam Vanderhoeven, leads his squad in scoring this season and in the month of November totaled 16 points (11G, 5A). The Beaver Dam, WI native recorded a point in each of the seven games he appeared in over the month along with a +10 rating. So far this season, Vanderhoeven has recorded 38 points (23G, 15A) in 20 games.
Runner-Up: Carter Newpower, Mason City Toros
Honorable Mention (alphabetical): Ben Anderson, Granite City Lumberjacks - Luke Anderson, Wausau Cyclones - Ethan Chesney, Peoria Mustangs - Daniel Crutcher, Great Falls Americans - Alekandr Gamzatov, Texas Brahmas - Tylor Greene, Helena Bighorns - Jack Harris, Yellowstone Quake - Tyler Love, Texas RoadRunners - Nolan Murphy, Northeast Generals - Mike Sweetland, Willmar WarHawks - Justin Wright, Rochester Grizzlies
Bauer Hockey NA3HL Defenseman of the Month: Joey Carollo, Texas Brahmas
Texas Brahmas defenseman, Joey Carollo had a great month as the team continued unbeaten throughout November. The defenseman tallied 15 points, scoring 4 goals and handing out 11 assists in eight games. The Chicago, IL native is tied for fourth in the NA3HL amongst defenders in points with 26
Runner-Up: Taber Gutchick, Helena Bighorns
Honorable Mention (alphabetical): Will Britton, Wausau Cyclones – Thomas Dalsin, Great Falls Americans – Hubert Guzy, Peoria Mustangs – Owen McNamee, Northeast Generals – Kyle Mortenson, Granite City Lumberjacks – Ty Neckar, Texas Roadrunners – Brendan Sloth, Mason City Toros – Per Waage, Rochester Grizzlies
NA3HL Goaltender of the Month: Matt Smith, Granite City Lumberjacks
Granite City Lumberjacks goaltender, Matt Smith, continued staying in the winning column this season after a strong effort in November. The Fenton, MO native only allowed three goals in four games after stopping 73 of the 76 he faced. In those four games, Smith added two shutouts while recording a .961 save percentage and a .750 goals against average. Smith sits atop of the NA3HL amongst goaltenders with a 1.00 GAA and a .944 SV% this season.
Runner-Up: Dolan Gilbert, Texas Brahmas
Honorable Mention (alphabetical): Joe Ambroffi, Peoria Mustangs – Eric Buchholz, Helena Bighorns – Erik Chaffe, Mason City Toros –Zach Dosan, Wausau Cyclones – Hunter Hein, Texas RoadRunners – Lucas Henderson, Rochester Grizzlies – Mason Joseph, Northeast Generals