Jr. Hat Tricks, Grizzlies, Americans, Blizzard win on Wednesday
December 2, 2021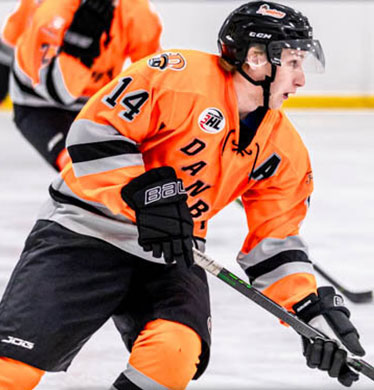 Danbury 5 @ New Jersey 2 – Nikita Kovalev scored twice to lead the Jr. Hat Tricks to a 5-2 win on Wednesday over the Titans. It was all Danbury in the first two periods as Dylan Walker and Kovalev scored in the 1st period to make it 2-0, and then in the 2nd period, Ivan Kovalev, Seth Beagle and Nikita Kovalev scored to make it 5-0. Jesse Dickinson and Alex Blaszak scored in the 3rd period for the Titans. Gennaro Demiao made 21 saves in the win, while Colin Freitas made 43 saves in the loss.
Rochester 3 @ Milwaukee 0 – Grizzlies goalie Zach Wiese stopped all 27 shots that came his way for this first shutout of the season as Rochester blanked Milwaukee, 3-0. Kyle Bauer scored two goals in the 2nd and 3rd periods and Austin Meers also added a goal for the Grizzlies. Spencer Northway took the loss in goal for the Power, making 37 saves.
Alexandria 4 @ Willmar 3 – The Blizzard got two goals from Blaze Braswell and a late tally from Matt Mcintyre to break a 3-3 deadlock in a 4-3 win in Willmar on Wednesday. Braswell scored twice in the opening period to give Alexandria a 2-0 lead. Willmar answered with goals from Michael Sweetland and Ben Luedtke to tie the game at 2-2. Tyler Klingbell briefly gave the lead back to the Blizzard, but Tyler Misialek would answer in the 3rd period to make it 3-3, which set up Mcintyre's heroics with just 2:22 left in the game. Blizzard goalie Bailey Rosch made 39 saves in the win, while Will Pinney made 19 saves in the loss.
Great Falls 5 @ Butte 3 – Five different players scored for Great Falls and Zac Hattan made 42 saves to give the Americans a 5-3 win in Butte. The Americans never trailed in the game, getting 1st period goals from Jackson Henningsgard and Garrett Weisenburger. 2nd period goals from Silas Hughes and Tae Evans, and a 3rd period goal from Daniel Crutcher. Nick Bradshaw scored twice in the Cobras loss and David Hanny also had a goal. Cobras goalie Caleb Cross made 48 saves in the loss.