December 3, 2021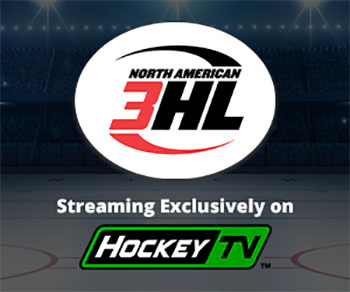 December opens in the NA3HL with 30 games on the schedule from Friday through Sunday as anticipation is building towards the NA3HL Showcase.
Just two weeks remains until the 2021 NA3HL Showcase, which will take place at the Super Rink in Blaine, MN, from December 20-22.
The NA3HL Showcase Schedule was released earlier this week. View the schedule here.
The event pairs up evenly matched teams against one another based on the current standings and is also designed to have cross-divisional games with balanced competition. All NA3HL teams will play three regular-season games at the Showcase, which is annually one of the most well-attended and scouted events of the entire season for the league, attracting college and junior scouts alike.
The big series everyone will be watching this weekend is the battle of two undefeated teams in the Frontier Division as the Gillette Wild visit the Helena Bighorns. The two other undefeated teams, the Northeast Generals and Texas Brahmas are also in action.
The NA3HL is in its 12th season in 2021-22 and serves as one of the top training grounds in the country by providing the best coaching, exposure and developmental vehicles available for student-athletes in Tier III junior hockey. It is one of only two USA Hockey-sanctioned Tier III junior leagues.
No other league of its kind has had more movement and advanced more players onto play in the North American Hockey League (NAHL) than the NA3HL. Thanks to additional and enhanced initiatives in cooperation with the NAHL put in place several years ago, more players from the NA3HL play, practice, and earn NCAA Division I scholarships with the NAHL than any other league.
This past season not only did 35 NA3HL players sign tenders to play in the NAHL for the 2021-22 season, but 21 more players were selected in the 2021 NAHL Draft. The NA3HL also continues to make its mark and is one of the leaders in junior hockey with the advancement of players onto the NCAA. So far in 2021, the NA3HL has over 100+ college commitments, with almost 70% of those being NCAA commitments. In addition, over 300 former NA3HL players are currently playing in the NCAA, and 13% of NCAA Division III freshmen this season previously played in the NA3HL.
All games broadcast live on HockeyTV.
FRI, DECEMBER 3
Louisiana at Atlanta - 7:30 PM EST
Mid Cities at Texas Brahmas - 7:05 PM CST
Granite City at Alexandria - 7:10 PM CST
Oklahoma City at Austin - 7:30 PM CST
Mason City at Minnesota - 7:30 PM CST
Texas RoadRunners at El Paso - 7:00 PM MST
Great Falls at Badlands - 7:05 PM MST
Gillette at Helena - 7:05 PM MST
Yellowstone at Butte - 7:30 PM MST
Bozeman at Sheridan - 7:30 PM MST
Rochester at St. Louis - 8:30 PM CST
SAT, DECEMBER 4
Peoria at Milwaukee - 12:30 PM CST
Rochester at St. Louis - 2:30 PM CST
Danbury at Long Beach - 4:00 PM EST
Northeast at Bay State - 5:40 PM EST
Louisiana at Atlanta - 7:30 PM EST
Mid Cities at Texas Brahmas - 7:05 PM CST
Mason City at Minnesota - 7:30 PM CST
Willmar at New Ulm - 7:30 PM CST
Wausau at Oregon - 7:30 PM CST
Yellowstone at Butte - 7:00 PM MST
Texas RoadRunners at El Paso - 7:00 PM MST
Great Falls at Badlands - 7:05 PM MST
Gillette at Helena - 7:05 PM MST
Bozeman at Sheridan - 7:30 PM MST
SUN, DECEMBER 5
New Jersey at Long Beach - 10:30 AM EST
Louisiana at Atlanta - 12:00 PM EST
Peoria at Milwaukee - 2:00 PM CST
Texas RoadRunners at El Paso - 4:30 PM MST
Bay State at Danbury - 7:00 PM EST