Mason City, NA3HL alum Cichosz makes NCAA DI commitment
December 24, 2021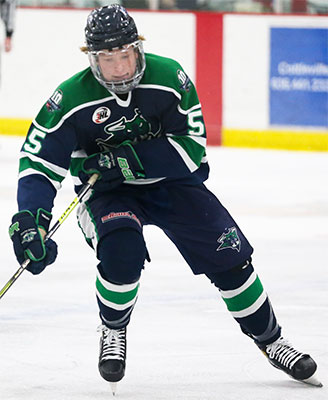 The Mason City Toros, proud members of the North American 3 Hockey League (NA3HL), are excited to announce that alum Campbell Cichosz has committed to Minnesota State University, an NCAA Division I program and a member of the Central Collegiate Hockey Association (CCHA).
Cichosz becomes North Iowa's 11th player to make it to the Division I ranks after playing for the team during its 10-year run in the NA3HL, and second player to do so this season. Current Lincoln Star Lucas Wahlin announced his commitment to the University of St. Thomas earlier this season. With Cichosz's commitment, he is set to join the nation's top-ranked NCAA Division I program barely an hour northwest of his hometown of Albert Lea, Minnesota.
Cichosz first made waves on the blue line as a member of the Albert Lea High School program, landing all-Big 9 Conference honors both during his junior season in 2018-19 and his senior campaign in 2019-20. With 28 points, he led the Tigers in scoring as a junior, and his 24 points the following season ranked atop the team's defensive corps.
He made his first appearance with the Bulls early in that 2019-20 season, scoring seven points in 15 games before returning to Albert Lea to begin his final season at the high school level. He stepped right in and made an impact for the Bulls, scoring a goal and an assist at the Peoria Mustangs in only his second junior contest. He was back full-time with North Iowa last season, notching three goals and 14 assists during a run to the 2020-21 West Division title before adding two more assists in the postseason and helping the Bulls win their fourth Fraser Cup championship in team history.
This season, he heads to the holiday break with three goals and 12 assists in 24 games as a member of the North American Hockey League's Anchorage Wolverines, with two of the three goals coming on special teams. The Wolverines are coached by Rochester, Minnesota native Mike Aikens, who saw Cichosz and the Bulls from the opponents' bench both of those seasons as an assistant coach for the Rochester Grizzlies, and helped lead the Grizzlies to last season's Fraser Cup Final against North Iowa.
Cichosz is used to playing up to high standards, and the standards for his new college team are about as high as they come - going into Christmas, Minnesota State stands atop both the USCHO.com and USA Today/USA Hockey Magazine Division I college hockey polls. The Mavericks won or shared six of the last seven regular-season titles in the WCHA before moving to the new-look CCHA this season. Last year's Minnesota State team made its first national semifinal of any kind since 1991, and qualified for its first-ever Division I Frozen Four.