Generals take down Sea Captains on Wednesday
January 13, 2022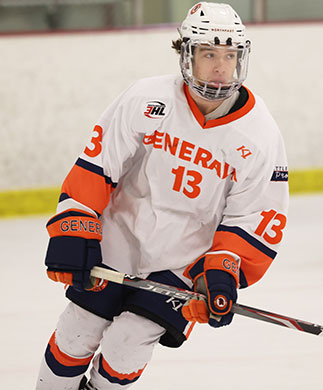 Northeast 9 @ Norwich 1 – Matthew Nuzzolilo and Caiden Hess each scored twice as the Generals cruised to a 9-1 win over the Sea Captains on Wednesday.
The Generals jumped out to a 3-0 lead in the 1st period and never looked back as Nolan Zotter, Cody Lambert, and Samuel Lamphear all scored.
The lead increased to 5-0 early in the 2nd period as Braeden Kennedy and Viktor Solokhin scored for the Generals. The Sea Captains got their lone goal later in the period from Teagen Beier. Nuzzolilo would add his first of the game late in the period to make it 6-1.
In the 3rd period, Hess scored twice and Nuzzolilo added his second goal of the game to complete the 9-1 final.
Mason Joseph made 20 saves in the win, while Patrick Kristo and Brendan Pellerito shared in the loss.