Generals edge Jr. Hat Tricks in OT on Monday
January 25, 2022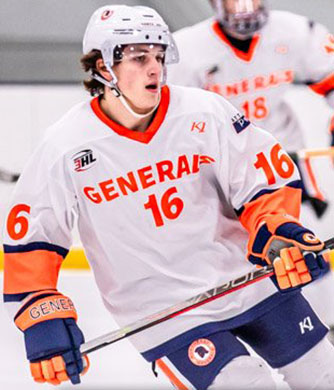 Northeast 4 @ Danbury 3 (OT) – The Generals extended their winning streak to seven straight games as Caiden Hess scored :54 seconds into overtime to give Northeast a 4-3 win over the Jr. Hat Tricks.
Danbury scored the only goal of the 1st period as Nikita Kovalev netted his 24th goal of the season.
The Generals came back in the 2nd period and took a 2-1 lead thanks to goals from Joey McCreadie and Jackson Schouten.
In the 3rd period, Danbury tied the game at 2-2 as Kovalev scored his second goal of the game. The Generals grabbed the lead back at 3-2 later in the period as Matthew Nuzzolilo scored. With just over five minutes remaining in the 3rd period, Danbury would tie the game again as Nick Rogers scored his 17th goal of the season.
That led to Hess's heroics in overtime, which was his third game-winner of the season.
Luke Fundator made 38 saves in the win, while Brennan Churchill made 47 saves in the loss.