Granite City wins West title with 32nd straight win
February 3, 2022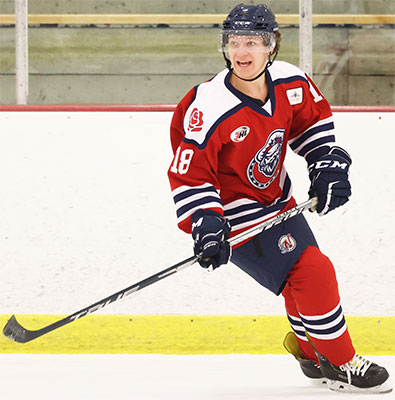 Granite City 6 @ Alexandria 0 – The Lumberjacks clinched the West Division regular season title thanks to a 6-0 shutout win over the Blizzard on Wednesday. Lumberjacks goalie Quentin Sigurdson made 20 saves in the win for his third shutout of the season. The Lumberjacks led 1-0 after the 1st period thanks to a goal from Tucker Skime. Granite City put the game out of reach with four goals in the 2nd period as Hayden Walters, Tal Halliday, Bjorn Jorgenson, and Brett Reed all lit the lamp. Halliday would add his second goal of the game in the 3rd period to complete the scoring. Blizzard goalie Bailey Rosch made 39 saves in the loss.
Norwich 2 @ New Jersey 1 (OT) – Sea Captains goalie Andrew Yocum made 35 saves to lead his team to a 2-1 overtime win in New Jersey on Wednesday. After a scoreless 1st period, the Sea Captains took a 1-0 lead in the 2nd period on a goal from Brian Essing. New Jersey tied the game at 1-1 late in the 3rd period as Ryan Kenna lit the lamp. Just over two minutes into overtime, Norwich brought home the win thanks to a goal from Teagen Beier, who scored his 11th goal of the season. Titans goalie Colin Freitas made 35 saves in the loss.
Oklahoma City 9 @ Atlanta 3 – Avery Pittman had a hat-trick and Noah Henslee had a five-point game as the Ice Hawks handled the Capitals on Wednesday, 9-3. It was all Oklahoma City in the first two periods as they opened up a 7-0 lead. Pittman scored three of the goals and other goals were scored by Aaron Best, Jakob Holley, Tyler Larsen, and Henslee. Atlanta tried to mount a comeback later in the game thanks to a hat-trick from Anthony O'Neal, but another goal from Henslee and one from Vincent Anderson secured the 9-3 win. Garrett Johnson made 26 saves in the win, while Hudgel Selk made 38 saves in the loss.
Long Beach 3 @ Bay State 2 – Max Rotsaert scored twice to lead the Sharks to a 3-2 overtime win over the Bobcats on Wednesday. Rotsaert opened the scoring in the 1st period to give Long Beach a 1-0 lead. Bay State tied the game in the 2nd period as Brian Woak scored. Rotsaert added his second of the game late in the 2nd period to make the score 2-1. The Bobcats would again tie the game on a goal from Will Cormie that made it 2-2. However, the game-winner came from Devin Carney with just :35 seconds remaining in regulation. Ryo Murakami made 21 saves in the win, while Cameron Schnopp made 24 saves in the loss.