Generals close in on East title with 9th straight win
February 4, 2022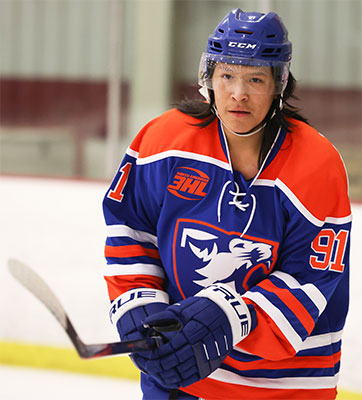 Long Beach 3 @ Northeast 10 – Tyler Ramm had a hat-trick and two assists to lead the Generals to a 10-3 win at home over the Sharks. The Sharks struck first and took a 2-0 lead thanks to back-to-back goals early in the 1st period from Tyler Zembrzycki. The Generals responded with four straight goals to take a 4-2 lead, including two from Ramm and others from Jacob Kaminski and Braeden Kennedy. Long Beach cut the lead down to 4-3 a Ryo Yamamoto scored, but it was all Northeast after that as they added two more goals in the 2nd period from Nick Wracker and Sean Gorman, and then four more goals in the 3rd period from Ramm, Kaminski, Caiden Hess, and Zach Sinople. Luke Fundator made 27 saves in the win, while Greyson Skirpan made 33 saves in the loss.
Bay State 0 @ Danbury 2 – Danbury goalie Lorenzo Rossi stopped all 34 shots that came his way for this first shutout of the season as the Jr. Hat Tricks blanked the Bobcats, 2-0. Danbury is now 6-0-1 in their last seven games, while Bay State has lost three straight. Both Danbury goals came in the 1st period as Cooper Betancourt and Nikita Kovalev scored. Braeden Bovey made 39 saves in the loss.
Badlands 4 @ Yellowstone 3 – Sabres forward Keagon Holloway scored two goals to lead his team to a 4-3 road win in Yellowstone on Thursday. The Quake led 3-1 after two periods thanks to two goals from Jack Harris and one from Gustav Ostman. Holloway scored in the 1st period for Badlands and then added a goal in the 3rd period, which ended up being a three-goal 3rd period from the Sabres with other goals from Brady Ridnour and Derrick Brown. Zach Broxterman made 53 saves in the win, while Edvin Falkenstrom made 38 saves in the loss.
Oklahoma City 7 @ Atlanta 5 – The Ice Hawks won their fifth straight game as seven different players scored in an 7-5 win over Atlanta. The Ice Hawks got 1st period goals from Aaron Best and Noah Henslee. Richard Indermill, Grant Hanifen, and Jakob Holley scored 2nd period goals, and Vincent Anderson and Robby Rabroker scored in the 3rd period. For the Capitals, Nick Jameus scored twice and Harrison Flaacke, Gonzalo Almanza, and Kaleb Miller had the goals. Nathan Hadley made 25 saves in the win, while Paul Jarvis had 54 saves in the loss.